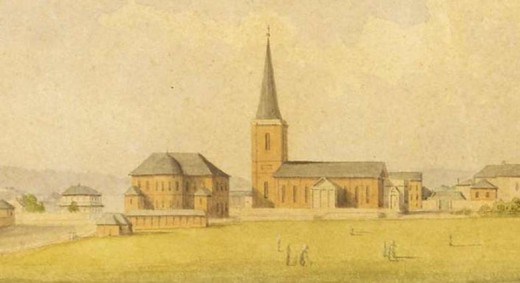 Illustration captioned Supreme Court on left in this detail of 1840s watercolour by J. Ellis, entitled St James' Church, The Supreme Court & Hyde Park, Sydney, should be HHT Caroline Simpson Library & Research Collection
The work of convict architect Francis Greenway is characterized by a range of motifs used with great variety across a range of projects. Greenway incorporated his characteristic hemispherical domes into several projects – over stairhalls at Ultimo House (1814, demolished 1902) and Supreme Court (1820-27). The Macquarie Lighthouse, South Head (1819, demolished 1883) was designed with a pair of domes over linked pavilions. The dome of the fountain, Macquarie Place (c1817, demolished c1882), featured a dome (altered by the 1840s) which emerged from a shaped blocking course or parapet, like that of the Hyde Park Barracks guard houses. The cruciform Sydney Market (1820, demolished c1890) featured a dome at the crossing.
Drawing in Joseph Fowles, Sydney in 1848, State Library of New South Wales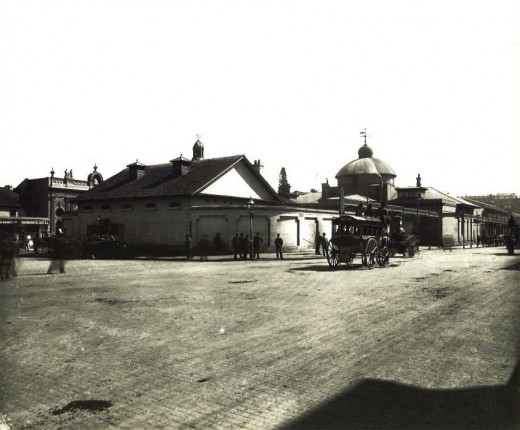 Sydney Market in the late 19th century, State Library Of New South Wales
Greenway designed his domes – overhanging hemispherical forms supported on a drum – as self-conciously stripped back elemental forms, a 'primitive' tendency favoured by Regency architects such as Sir John Soane which was possibly ultimately inspired by the writings of the philosopher, Jean-Jacques Rousseau. The domes were constructed of curved timber ribs, braced with substantial hardwood circular plates and covered with Forest oak (Casuarina torulosa) shingles overlaid on narrow battens. The guardhouse drums were also supported on a circular timber (Eucalyptus sp) base plate. One of these, recently discovered beneath the floor of the adjacent Mint building (see Gary Crockett's recent post in this blog), will be re-incorporated in the northern guardhouse, whose above ground archaeology will be interpreted.
Architectural historian, James Broadbent identified John Plaw's Ferme Ornée or Rural Improvements (London, 1795) as the design source for a barn and stables at John Macarthur's Home Farm at Camden Park. While the same design was used for stables at nearby Brownlow Hill c1830, there appears to be no evidence of Plaw's publications being used by the Macquaries or Greenway. The Plaw design used at Camden originated with either Greenway's rival, Henry Kitchen (1793-1822, active in NSW from 1816) or John Macarthur, who returned to the colony in 1817. Plaw's design for a hunting box with twin lodges does not appear to have direct bearing on Greenway's design for the Hyde Park Barracks, constructed in 1817-19. A similarly interesting parallel is the Workhouse, Southwell, Nottinghamshire, England (1824), a three storey barracks set within a compound which was compartmentalized according to the genders and classes of the inmates.
See http://www.nationaltrust.org.uk/main/w-vh/w-visits/w-findaplace/w-theworkhouse/
In 1800 Greenway, in exhibiting drawings at the Royal Academy, London, gave his address as 'At Mr Nash's' and giving rise to the hypothesis that Greenway, born into a family of Bristol builders and stonemasons, had been drawn into the architect's John Nash's sphere during his years of 'exile' in Carmarthen, Wales during the 1790s. Greenway designed and built a market house at Carmarthen, Wales in 1801, a commission he may have secured through Nash. Greenway presented a design for the Carmarthen market house to Macquarie in 1814 by way of demonstrating his credentials as an architect, although the design may have been more sophisticated than the completed building.
Greenway possessed a copy of Sir William Chambers influential Treatise on Civil Architecture (1759) and made use of architectural pattern books (such as for the floor plan of Hobartville, Richmond, 1827). With Greenway's design of Hyde Park Barracks, a stronger case may be made for his acquaintance with John Nash (1752-1835) and emulation of a range of motifs evident in Nash's commissions such as:
Relieving arches in series reading as blind arcading
– Nash's Foley House, Haverfordwest, Pembrokeshire 1794
– Llanaeron, Cardiganshire, 1794
– Whitson Court, near Newport, Monmouthshire, 1795
– Hereford Gaol, 1796)
– The Warrens, Brayshaw, Hampshire, 1800-02
Hemispherical domes
– Nash's mausoleum of Thomas Nash, Farnigham, Kent, 1778
– County House, Stafford, Staffordshire, 1794
– Sundridge Park, Bromley, Kent, 1799
– Balindoon, Co Sligo c1800
– design for Bulstrode House, Buckinghamshire 1801-02
– The Quadrant (west side), Regent Street London, 1809-26
Enclosed gables
– Nash's Ffynone, Pembrokeshire 1792-96
– Foley House, Haverfordwest, Pembrokeshire 1794
– Glanwysc, Llangattock, Breconshire c. 1795
– The Warrens, Brayshaw, Hampshire, 1800-02.
Australian colonial architecture may generally be seen as provincial as the architecture of Greenway's native Bristol. However, Greenway's architectural competence and association with John Nash (later the Prince Regent's architect and the architect who recast Regency London in classical garb) lifted him above many of his peers in Sydney or the English provinces. His shingle-clad Hyde Park Barracks guardhouse domes in their 'primitive' simplicity gave Governor Macquarie's principal Sydney street a metropolitan sophistication.
References
Broadbent, James, The Australian colonial house – architecture and society 1788 – 1842, Sydney, Hordern House and the Historic Houses Trust of NSW, 1997. The Plaw design for farmyard stabling used at Camden Park is reproduced as plate 6.11
Broadbent, James and Hughes, Joy, Francis Greenway architect, Glebe NSW, Historic Houses Trust of NSW, 1997
Mansbridge, Michael, John Nash a complete catalogue 1752-1835, New York 1991
No Responses to " Greenway's Domes "