Wed 19 Oct 2011
During one of our conversations with visitors to the Hyde Park Barracks Museum, someone commented that one of the beautiful things about old buildings is the thick walls and high ceilings – remnants of an era where things were built to last.
It's a far cry from today's throw-away society where as soon as something shows signs of age, or breaks down, we chuck it out.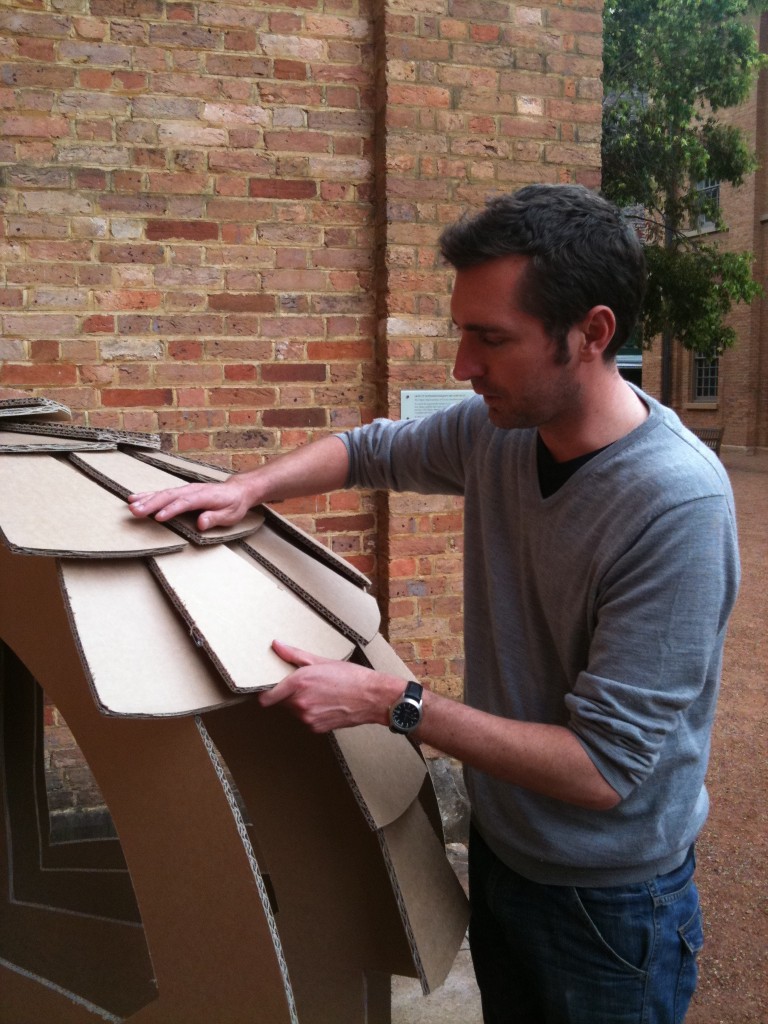 Shingled roofs, however, were never that sturdy with an average lifespan of 20 to 25 years.  So whilst the imposing facade of the Hyde Park Barracks remained in place, within a relatively short time frame the original domes were in a state of disrepair.  Once removed, the gatehouses remained domeless for 150 years before the restoration process was undertaken.  This week we had our own mini 'domes disaster' when our sculpture prototype housed in the Hyde Park Barracks Museum started to lose a few of its shingles.  In our case, it wasn't a design problem – it was more about cardboard + glue + lots of kids in a busy museum space.  What's interesting is the artist's response: we won't bin our prototype, we'll repair it.  Many works of art, much like our cardboard and paper dome sculpture, are ephemeral but the ideas behind them are often ones that we spend lifetimes exploring.  Our dome will be built to last a day, with the purpose of housing all the decorated shingles people have been sending in as part of our conversations around the domes restoration project.
If you'd like to contribute a shingle of your own, you can download a template from here. Check out this short how-to video made with the help of one of our new friends:
Make a shingle from Historic Houses Trust on Vimeo.
Just as Greenway and Macquarie were undeterred by unexpected obstacles in the construction of their grand vision for Sydney, we will take inspiration from the indomitable spirit of our forefathers and get back to the glue guns to have our sample dome sculpture repaired in no time! Your shingles will help us a great deal in making a glorious public sculpture on November 13 for Domes Day.
One Response to " Domes Disaster "
Trackbacks & Pingbacks: