Its that time of year again – unpack the decorations, break out the pudding bowls and clear the kitchen table because its time to get those cakes and puddings ready!
In December, the principal household duty lies in preparing for the creature comforts of those near and dear to us, so as to meet old Christmas with a happy face, a contented mind, and a full larder; and in stoning the plums, washing the currants, cutting the citron, beating the eggs, and mixing the pudding, a housewife is not unworthily greeting the genial season of all good things.

Isabella Beeton, Beeton's Book of Household Management, 1861
Wreath and pudding workshops
Coming up very soon are two workshops to get you into the Christmas spirit – and not that annoying one from Dickens that appears at midnight clanking chains and annoying everyone. On Sunday morning, December 15th at Vaucluse House, curator Joanna Nicholas is leading a wreath-making workshop. After you make your wreath to take home, Joanna will lead the group on an intimate tour of the house – including a 'beyond the ropes' viewing of the award-winning drawing room dressed for Christmas. All the details of this over-18s workshop are here.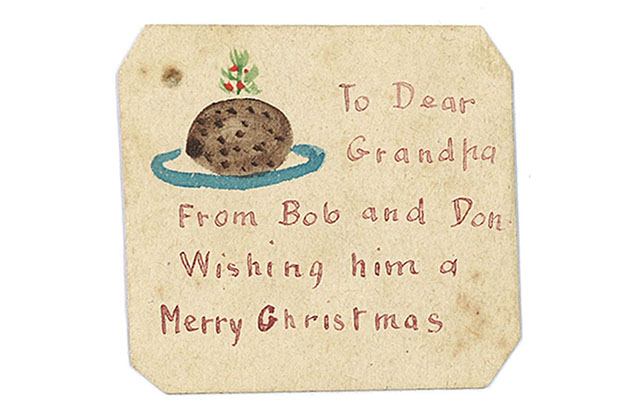 And when wreaths is over, Jacqui ('the cook') will be leading an afternoon workshop making puddings, using Mrs Beeton's recipe from 1861 – that's it up the top of this post. All participants will take home an individual-sized pudding in a porcelain bowl. Details for puddings workshop are here.
Mrs Beeton's Christmas pudding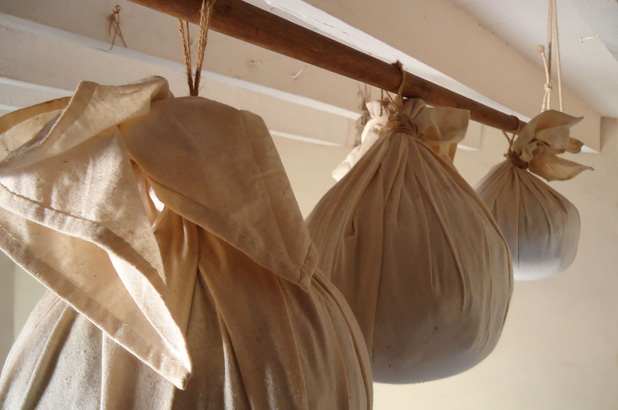 Over the years we've looked at several Christmas cake and pudding recipes – there was Dolly Youngein's Christmas Cake from 1912, fruit mince ice cream, rum balls, as well as brandy butter and Mrs B's plum pudding sauce. The one we come back to – and that Jacqui will be making in her workshop – is Mrs Beetons Christmas Pudding, from 1861:
Mrs Beeton's Christmas plum pudding

Print recipe
| | |
| --- | --- |
| Meal type | Dessert |
| Occasion | Christmas |
| Region | British |
| From book | Beeton's Book of Household management edited by Mrs Isabella Beeton |
Ingredients
750g good-quality mixed dried fruit
1/2 cup fragrant black tea (optional) (e.g. Earl Grey, Lady Grey, orange pekoe)
250g fresh breadcrumbs, made from 1 x 375-g, 2-day-old loaf, crusts removed
200g butter (or suet), put in freezer for 1–2 hours
1 tablespoon mixed spice
1 teaspoon ground nutmeg
6 eggs (well beaten)
1/2 cup brandy
boiling water
Note
'On Christmas-day a sprig of holly is usually placed in the middle of the pudding, and about a wine-glassful of brandy poured round it, which, at the moment of serving, is lighted, and the pudding thus brought to table encircled in flame.'
So says Isabella Beeton in 1861, in her best-selling Beeton's book of household management (1861). I've adapted her 'Christmas plum pudding (very good)' for modern measurements, replaced suet with butter, and added some extra spice now synonymous with Christmas.
Serves 12
Directions
If the fruit looks dry and shrivelled rather than plump, soak it in the tea for at least a few hours, or overnight.
Grease a 1.5-litre (6-cup) capacity pudding basin, or equivalent smaller bowls, with butter. Cut a round of baking paper the same size as the rim of the bowl. Prepare a double layer of foil to form a 2-cm pinch pleat along the centre, allowing for pressure as the pudding cooks. Put a trivet in the base of a saucepan that is deep enough to hold the pudding basin while still able to be covered with the saucepan lid.
Put the breadcrumbs in a large bowl and, using a grater that has been chilled in the fridge for 30 minutes, grate the frozen butter into the breadcrumbs. Mix through lightly with a knife. Add the spices and fruit (or soaked fruit, drained of excess liquid).
Add the eggs and brandy, and encourage everyone in the family to stir the mixture (an old tradition).
Spoon the mixture into the pudding basin, just short of the rim as the mixture may swell during cooking. Cover the surface of the pudding with the baking paper and cover the basin with the foil, tying securely with string. Put the basin on the trivet in the pan and add enough boiling water to reach halfway up the side of the basin to create a water bath.
Cover the pan and simmer for 6 hours, topping up with boiling water as needed. (Nineteenth-century recipes for Christmas pudding invariably recommend cooking for 6 hours to ensure a rich colour.)
Cool to room temperature then refrigerate until required.

To reheat, simmer the pudding in the basin in boiling water for 1 hour or until heated through. Remove the foil and paper, run a knife around the inside of the bowl, and carefully invert the pudding onto a serving plate. It should be a rich dark colour but have a light and moist texture. Top with a sprig of holly, or some homemade fruit mince mixed with chopped walnuts. Douse the pudding with brandy and set it alight just before serving, if desired.
Pour plum pudding sauce over and enjoy!
COOK'S TIPS:
Use a fairly robust loaf of bread, as commercial white loaves containing 'stay fresh' additives won't dry out enough and you might end up with a wet and soggy pudding.

Chill the grater before grating the butter. If you put the grater in the freezer, make sure you wear rubber gloves when taking it out, to avoid giving your fingers a cold 'burn'. Alternatively, you could grate the butter in a food processor, first chilling the grating plate – it's messy and wasteful, but much easier!