A native garden among the skyscrapers
Yanu Nura, "to walk on Country" is a native garden at the Museum of Sydney that invites visitors to reflect, reconnect and learn about Aboriginal culture, past and present, on Gadi Country. Located on the outdoor mezzanine that overlooks the site of Australia's First Government House and the area that the first colonial garden was installed on Aboriginal landscape, in 1788.
The garden responds to 'the cultivated landscape that Aboriginal people created and maintained for millennia, [which is] now surrounded by skyscrapers' and reminds us that 'although the landscape has changed, it continues to provide for those who care for it.' The garden features some of the plants that are native to the area, providing local Sydney Aboriginal people with culture, food, medicine and tools for everyday life' historically and currently.
Deeper meaning
But 'the governor's garden' area holds far more significance than the place where introduced plant species were trialled for colonial benefit. It was the final place of rest for at least two Aboriginal people who were at the forefront of the impacts of dispossession in the 18th century – Arabanoo and Barangaroo, whose stories are told alongside the stories of the plants. Arabanoo was kidnapped and held captive at Government House for almost six months before dying from the smallpox epidemic that swept through the Aboriginal community in 1789, and Barangaroo, who often paid visits to the governor with her husband Bennelong in the early 1790s. Their presence in this place reminds us of Aboriginal people's struggle and their resilience in the ongoing colonial process.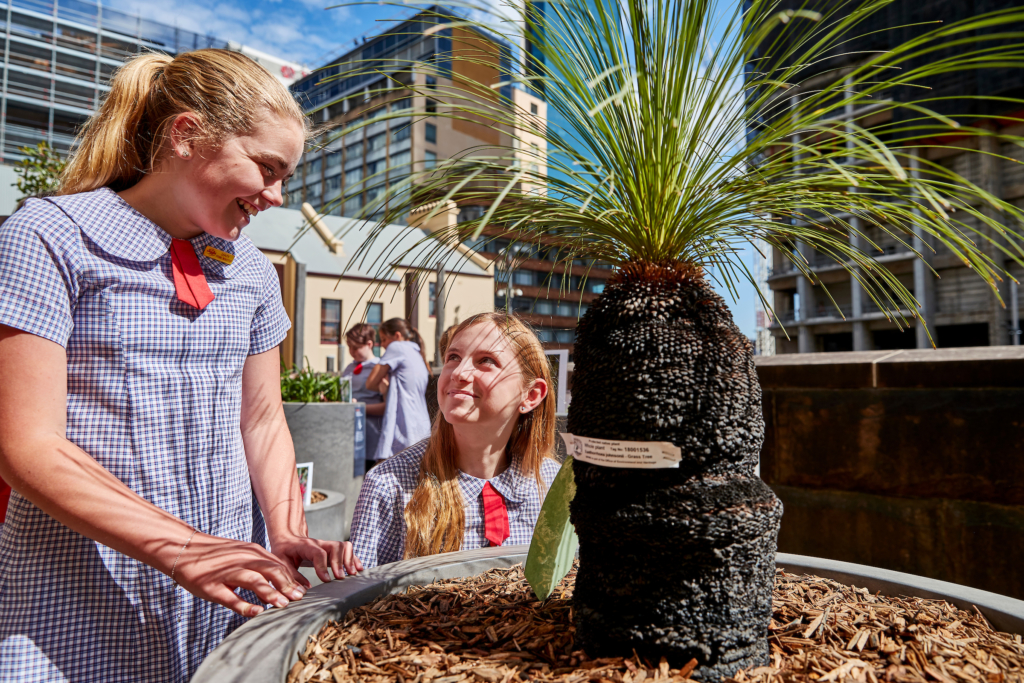 The plants include:
Durawi – Lomandra Lomandra longifolia has long strong grass-like leaves that can be used for weaving, and have long been used to make nets and baskets.
Tacoba – Lilly pilly Syzygium australe The tart-tasting, pink-to-purple-coloured berries are eaten or made into a drink by local Sydney Aboriginal people. They also make a wonderful ruby-coloured jelly preserve.
Gurrendurren – lemon-scented tea tree Leptospermum petersonii, the leaves of which are used medicinally
Polkulbi – Blue flax lily Dianella caerulea. Local Aboriginal people eat the deep blue berries, sweet-tasting berries whole, including the small crunchy seeds (beware when harvesting – some other species of Dianella can be toxic!)
Numura – Grevillea Grevillea 'Robyn Gordon', from which local Aboriginal people make a sweet-tasting drink from the flowers.
Warrigal Durawi – Warrigal greens Tetragonia tetragonioides grows prolifically and tastes similar to spinach. The leaves contain oxalates, which can make people ill if consumed in their raw state.
Bawa (meaning shrub or bush) – Native mint Mentha australis has a delicate minty flavour and is used by local Sydney Aboriginal people to treat colds and headaches.
Kai'mia – Gymea lily Doryanthes excelsa, its flower produces nectar which can be used as a drink.
Talara'tingi – Flannel flower Actinotus helianthi which can be made into a tea to soothe grief, and plays an important role in sorry business.
Gadi – Grass tree Xanthorrhoea arborea the base of the leaf can be eaten raw or cooked, and the plant produces a resin that can be used as an adhesive. Parts of the tree are highly valued in women's practices, as an aid during childbirth.
Sharing knowledge
Created in collaboration with D'harawal Knowledge Holder's Circle and Saltwater Knowledge Keeper Shannon Foster, the Yana Nura garden space is one of several new installations, programs and knowledge sharing initiatives at Museum of Sydney, including Cadigal Place, the Yura Nura gallery and education program, Garuwanga Gurad which means "Stories that belong to Country."