Latoya Schadel shares one of the pleasures of working in the Vaucluse House team:
I just love our days at Vaucluse House when we begin the working day with a walk through the bountiful kitchen garden. Sometimes, when produce is at its peak, our gardeners bring us a basket full of goodies to sample. Eggs from our hens laid fresh that day; vibrantly colourful chard and sorrel; crunchy fennel; fragrant bush lemons; peppery eggplants— it is, by far, one of the best parts of our job and we can seldom believe our luck.
Preserving history
It was on one such morning about a year ago that Leila and I began to get serious about putting this produce to good use, aside from their regular display in the colonial kitchen, and set about replenishing the store of pickles and preserves in the pantry. Inspired by the 19th century recipes of Mrs Beeton and Mrs Rundell, and encouraged by SLM's colonial gastronomer Jacqui Newling, we have spent the last twelve months recycling glass-jars from our own kitchens, and developing an array of seasonal pickles that the Wentworth's servants would be proud of. Although we both started this process as enthusiastic home-cooks, we've certainly learned a lot, as some of the simplest looking recipes can take practice. After boiling, peeling, and pickling a dozen of our hens' and ducks' eggs, we realised that the fresher the eggs are, the harder they are to peel, leaving them with a pockmarked and rather unsatisfying surface texture. Ideally, use eggs that are about a week old.
'a very Simple Method, and exceedingly Good'
As with anything in the kitchen, practice builds confidence, and soon we began to adapt 19th Century recipes for the vegetables we had to hand. When Anita Rayner, pointed out a particularly fine crop pf fennel, we scanned our well-thumbed Mrs Beeton to find a traditional way of preserving its fragrant goodness for future seasons. The recipe we found was intended for pickling onions but turned out beautifully for the fennel we served for Vaucluse House museum's Centenary celebration we held in October. Unlike many modern recipes for pickled vegetables, some of which we had experimented with at home, Mrs Beeton does not recommend the use of any sugar, only a few simple spices and vinegar. Like many of our visitors on the Centenary, we found this complemented the natural aromatics of the root—retaining, not exaggerating its natural flavour. In Mrs Beeton's words, it is "a very Simple Method, and exceedingly Good".
Pickled fennel

Print recipe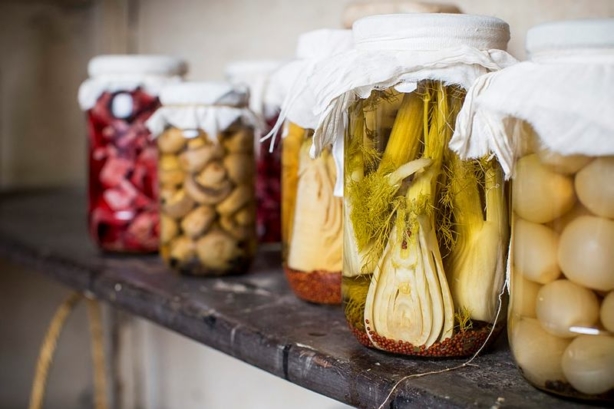 Ingredients
2 cups white vinegar or white wine vinegar
1 tablespoon black peppercorns
1 tablespoon mustard seeds
1 blade of mace (optional)
2 bay leaves
2 teaspoons sea salt
2 teaspoons sugar, or to taste, optional
2 or 3 small, tender fennel bulbs*
Note
Adapted from Mrs Beeton'sBook of household management (1861), this pickle, which Beeton attests is a 'very Simple Method, and exceedingly Good' is delicious with tasty cheddar cheese, white-fleshed fish, and pork and fennel sausages, and adds crunch to shredded pork sliders, using a good splash of the pickling vinegar for piquancy.
For instructions for sterilising glass preserving jars, click here
You will need sterilised preserving jars tall enough to hold the fennel. This recipe makes approximately 1L of pickling liquid; prepare extra vinegar solution to fill the jar if necessary.
Directions
Heat the vinegar, spices, bay leaves, salt and sugar (if using) with 1/2 cup of water in a saucepan over medium heat and simmer for five minutes. Allow the mixture to steep for a few hours or overnight.
When ready to bottle the fennel, measure the prepared vinegar solution. Ideally you will have 2 cups – top up with boiling water if necessary. Return the solution to the boil and simmer for a minute or so, cover the saucepan and keep hot.

Meanwhile, wash the fennel bulbs and trim off the green stalks, reserving some of the leafy fronds. Slice the bulbs in half from top to bottom (ie, lengthwise) and then each half into two or three pieces, depending on their size. Leave the cores if they are tender or trim off if tough. Pack the fennel and some of the leafy fronds into sterilised preserving jars, keeping the pieces below the fill line. Remove the spices and bay leaves from the pickling solution and divide them equally between the jars. Shake the jars to distribute the spices and bay leaves through the fennel pieces.

Pour the hot pickling solution into the jars to the fill line, ensuring the fennel pieces are covered. (If the liquid does not cover the fennel, boil additional vinegar and water: one part vinegar to a quarter part water.)
*If you are using larger fennel bulbs, remove the thick outer layers keeping them for another use, and pickle the inner layers. alternatively, slice the bulb finely and pickle to slices, packed firmly into the jar.
*COOK'S TIP: If you are using large fennel bulbs, remove the thick outer layers, keeping them for another use, and pickle the inner layers. Alternatively, slice the whole bulb finely and pickle the slices, packing them firmly into the jar.