It's Anzac week and as Sydney and surrounds grapple with a third day of wild rain storms, we can barely complain when we think of what conditions front-line soldiers endure for weeks, sometimes months, on end. Many of us take added comfort on Anzac Day, from baking Anzac biscuits, which fills the kitchen with inviting aromas.
Look familiar?
This recipe, recorded in the Goulburn cookery book (1909) used by the Thorburns and Macgregor families at Meroogal, is ostensibly a version of the classic Anzac biscuit. We do not know the date it was recorded, but it is probable that it was jotted down prior to the emergence of the 'Anzac' moniker being attached to this type of biscuit.
Rolled Oats Biscuits

2 cups R. Oats; 1 cup flour; 1 [cup] Brown Sugar; ½ cup melted butter; 1 teaspoon C Soda, Melted in 2 tablespoons  boiling water (40 mls); Salt

Let stand for 10 minutes after mixing; Roll then in the hand
Detectives at work
There has been much debate as to the origins of the iconic biscuit, recognisable by being oats based, containing no eggs, and made with melted butter rather than butter creamed with sugar. You may remember a past entry with Allison Reynolds who wrote on the 'unique, unusual and uniting' qualities of the Anzac biscuit, and her research project to uncover the biscuit's story. A public call-out produced a handwritten recipe with the hallmarks of the classic Anzac, and titled as such. It too, is undated, but is written in a book that was compiled between 1912 and 1920.
Food historian Barbara Santich notes in her book, Bold Palates: Australia's gastronomic heritage (2012), that the first-known published recipe for an Anzac appeared as 'Anzac biscuits or crispies' in the Melbourne Argus in 1920, and follows the accepted method. The brand reference to John Bull oats suggests that the company may have used the Anzac moniker as a patriotic way of getting people to make rolled oat biscuits.
ANZAC BISCUITS OR CRISPIES  

"Josephine: (E. Brunswick) has been kind enough to contribute the follow recipe for Anzac   biscuits: – Two cups John Bull oats or flaked oat-meal, 1 cup flour, 1 table-spoonful golden syrup, half-cup of sugar, 1 teaspoonful carbonate of soda, 1 good pinch salt, 2 tablespoonfuls boiling water, 1 half-cup melted butter.
Put oatmeal, flour, sugar, and salt together. Pour on the melted butter, mix syrup and boiling water, and stir in the soda. Mix all while frothing. Put on the greased oven slide with a teaspoon, bake brown in a moderate oven

The Argus (Melbourne, Vic. : 1848 – 1957). 15 September, 1920.
Chewy or crispy?
These early recipes do not include coconut, which was a later addition, but became very much entrenched in the 'traditional' Anzac biscuit. Oatmeal crispies are a popular 'cookie' in America, and have a long tradition there. They too contain coconut, but as they follow the conventional biscuit making method of creaming the butter, and contain eggs, cannot be considered a close relative to our Anzac.
And, if the weekend conversation turns to the ongoing debate about whether the Anzac should be chewy or crisp, the 1920s title is a good argument for the latter.
Anzac biscuits – before ANZAC

Print recipe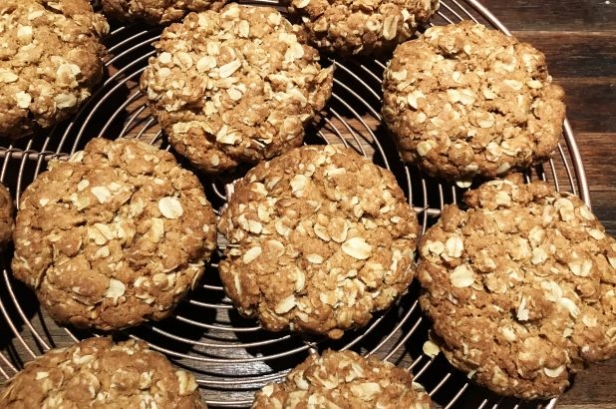 Ingredients
2 cups rolled oats
1 cup flour
1 cup brown sugar
1 pinch salt
1 teaspoon bicarbonate of soda
150ml butter, melted
Note
Anzac biscuits had humble beginnings: before they became known as Anzac biscuits (the earliest dated recipe is 1920) they were simply known as 'Rolled oat biscuits'.
This recipe comes from the Thorburn household at Meroogal, and uses brown sugar instead of golden syrup.
Directions
Preheat oven to 180°C (or 160°C fan-forced). Line a baking tray with baking paper.

Mix the rolled oats, flour, brown sugar and salt together in a bowl. Dissolve the soda in 40 ml (2 tablespoons) of boiling water and add to the mixture with the melted butter. Stir to combine and allow mixture to stand for 10 minutes.

Using wet hands, roll portions of the mixture into balls of desired size and flatten with the back of a spoon as you place them on the baking tray.

Bake for 10 minutes or until lightly browned.
Further reading and resources
Barbara Santich, Bold Palates: Australia's gastronomic heritage. Wakefield Press.South Australia. 2012 pp205-208
'Historian chews over the Anzac biscuit story' with Allison Reynolds. ABC Radio National Bush Telegraph podcast
Sian Supski. Anzac Biscuits a culinary memorial
Special thanks to Eat your history project volunteer Bethany Leyshan, for photographing and transcribing the original manuscript recipe.