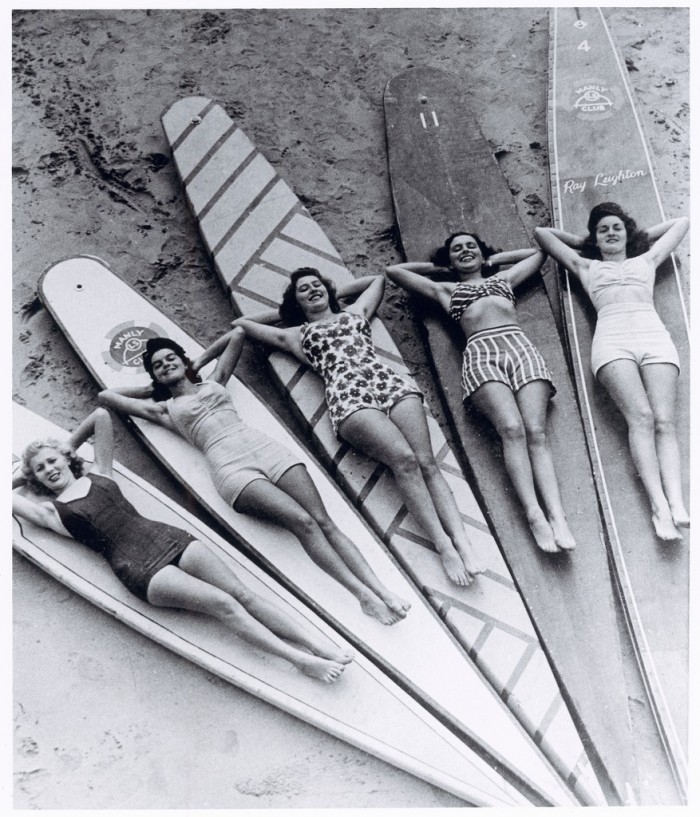 1950s Ray Leighton photo of Pat Crum, Lillian Galvin, Pam Toyer, Pam Inch and (Lillian's sister) Dorothy Galvin on hollow boards at Manly
Allan Jackson sent me a note recently about his mum, Lakemba femlin Lillian Jackson (that's her second on the left, cool smile), immortalised in this 1950s photo, and offered to ask Lillian to provide added info on the photo.
Here's what she wrote… I have been in touch with Betty Leighton regarding the names of the girls on the boards. Pat Crum, Lillian Galvin, Pam Toyer, Pam Inch and (my sister) Dorothy Galvin.
Dorothy (my sister) and I went for a ferry ride one Sunday afternoon and from then on surfed at Manly for years. Met Ray Leighton fashion photographer who took our famous photo on boards on beautiful Manly beach. He was a member of the surf club. I remember the saying Seven miles from Sydney a thousand miles from care.
On a stage near the club one Sunday I sang Lovely Hula Hands with leis and hula skirt and a musical accompaniment. Still dream of going to Hawaii. All this in the fifties – always loved the Harbour cruise (who wouldn't?). The Corso and the pine trees and walks along the promenade.
Lakemba is a long way from Manly ferry ride tram and train then bus or walk a mile home. Too expensive to live there then and still is. Sadly Pam Toyer, Pam Inch and Pat Crum now deceased. Did meet Rex Mossop in the early days. Dorothy and I purchased a booklet on Ray Leighton's life and gave 5O dollars to the surf club. Betty Leighton was a really good surfboard rider and is shown in the book.
Hope my memories of Manly will assist you with the work you are doing at the Museum. … Regards from Lillian.
Huge 'surf city' thanks to Allan and Lillian Jackson for the support and contribution.
Allan also mentioned a short bio piece he had made recently of his mother Lillian (aged 88) and aunty Dorothy (91).