'We used to get out kicks reading surfing magazines / good looking people wearing Lee Cooper jeans / gonna get a Kombi and go from beach to beach / be the kind of people the authorities can't reach'
The Go-Betweens, Surfing Magazines 2001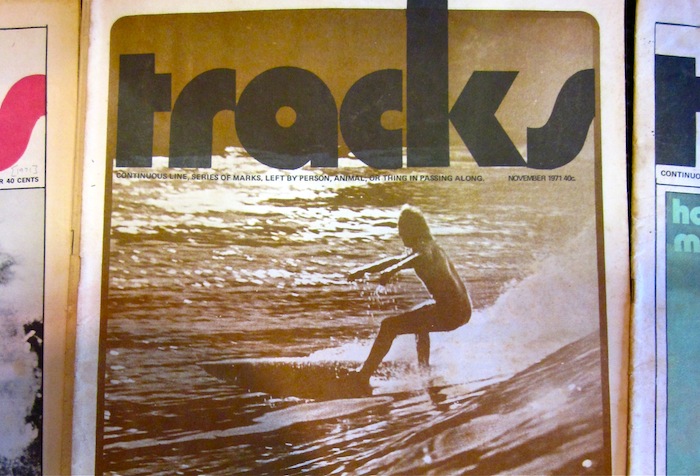 Tracks magazine courtesy Australian National Maritime Museum
SURF MAGS OF THE 60s & 70s
with surfer, writer and academic Paul Scott
Museum of Sydney
Sunday 4 December 2pm – 3pm
[free with museum entry]
check out event in HHT calendar 
Australian surfing magazines first appeared in Sydney in the early 1960s, stoking the phenomenal craze of boardriding by celebrating and defining surf culture. Along with surf movies, music, language and fashion, the magazines charted social and cultural shifts in the post-war economic boom and became iconic symbols of youth, mobility and hedonistic individualism. The magazines were also terrific sources of information on board design, where to surf, the rising stars of the sport and the latest moves both in-and-out of the water.
By the early 1970s, surfing magazines had morphed into a brash, freeform and visually exciting medium for progressive writing and photography, along with environmental concerns over coastal development and the use of the ocean as a waste dump. Critics claimed the magazines' obsession with blokes in barrels, babes on the beach and beers and bongs in Bali made each new issue little more than an ideological groundhog day. The romantic ideal of the outlaw surfer, travel and eastern mysticism simultaneously fed the roots of today's global surf-industrial complex.
Intriguingly, a similar formula of hedonism, sexism and adventure seems to persist as an industry standard some forty years later.
Join Newcastle surfer and University of Newcastle academic Paul Scott on this Surf City exhibition floor talk and learn about the fascinating rise of surfing magazines and their changing cultural relevance. Paul Scott has been surfing for over 40 years. He produced the 13-part radio series Swell Dreaming for the Australian Broadcasting Corporation. He contributed five chapters to The Atlas of World Surfing published by HarperCollins. Paul has written about surfing culture in the Newcastle Herald, The Australian, The Sydney Morning Herald and The Sun-Herald.