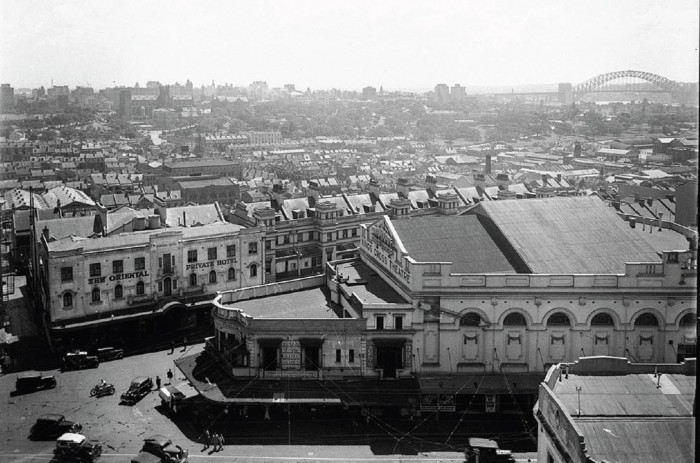 Darlinghurst Road, Kings Cross Theatre, city view, late 1930s Sam Hood, State Library Of New South Wales [Home and Away #34748]
The 1963 conversion of the grubby, shambling Kings Cross Theatre (shown above) on the intersection of Victoria and Darlinghurst Roads into a hip, stomping night club echoed wider cultural wars underway at the time. Not only had television killed off local picture palaces, but the greasy, pale skinned rocker scene of the 50s was swept aside by a new freedom-crazed, sun-loving wave of surfers. And the Surf City 'sound lounge' was where they went to stomp – that primal, leaping-about dance to the rumbling wail of surf music. Surf City was alcohol free although pumped with action nonetheless. Stomp-mad teens were kept in order by ushers and barrel chested security goons, known fittingly as beach inspectors. Big local surf-bands like the Atlantics, The Denvermen and the Dave Bridge Trio packed the place well ahead of overseas acts like the Beachboys and Chantays, who also performed at Surf City in early 1964.
After surf music died in 1964 and the 'beat' boom overtook Sydney, according to Milesago, bands like Ray Brown and The Whispers, The Missing Links and Billy Thorpe and the Aztecs did regular gigs at Surf City before its doors closed later in the decade.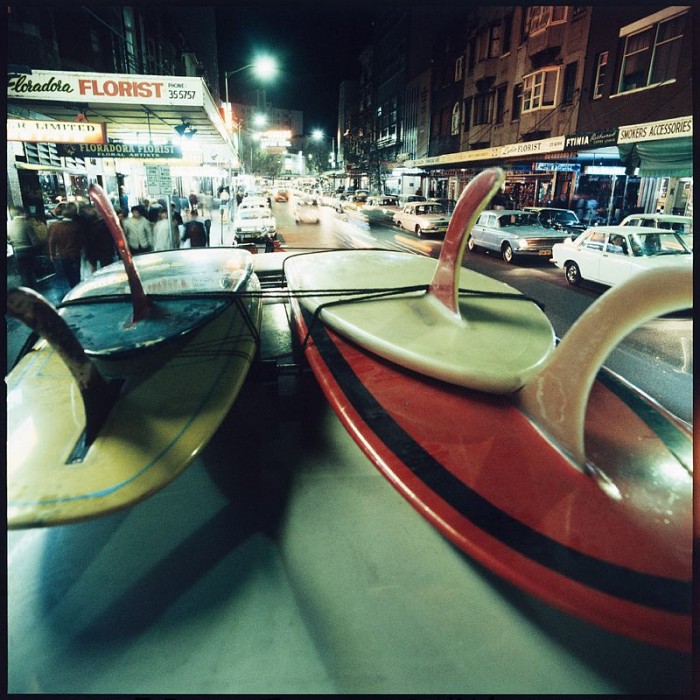 Darlinghurst Road, Kings Cross in the late 1960s, looking north toward El Alamein Fountain. Rennie Ellis Photographic Archive. Photograph (c) Wesley Stacey
Same view Darlinghurst Road Kings Cross, looking north, 2010, via Google streetview