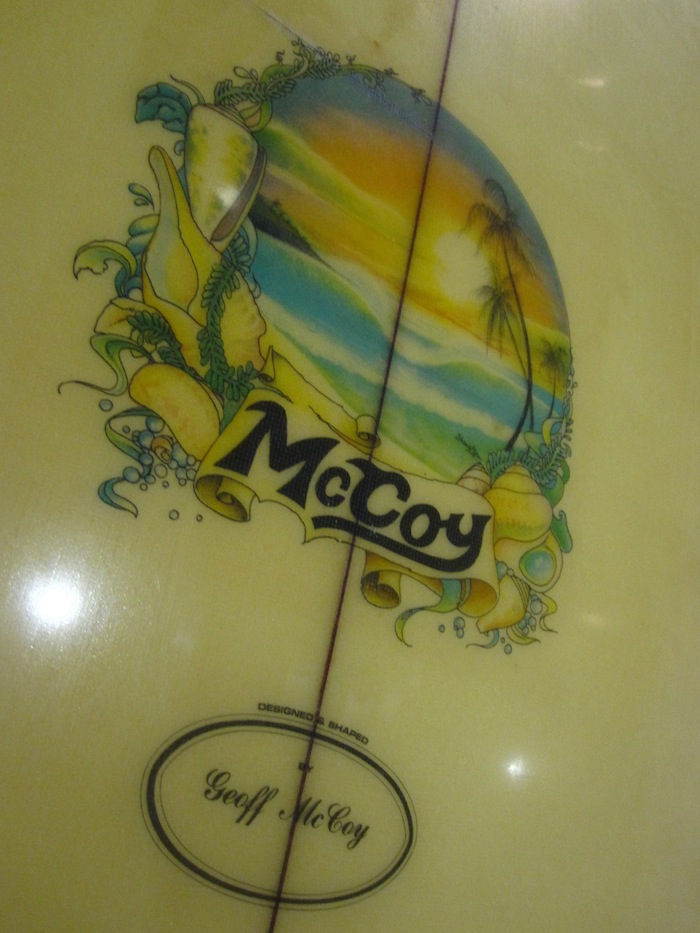 Mid 1970s Shane Egan decal art for McCoy surfboards, photo Gary Crockett
Was a pleasure to meet Shane Egan at the Surf City opening last Friday and hear about his early surfing years around Sydney and, of course, his work as a sticker artist, using 'indian ink and derwent pencils' to draw some of the most memorable surfboard decals of the 70s including those for McCoy and Morning Star.
Shane recently sent through a couple of photos along with some accompanying notes…
TRIBUTE TO LITTLE NARRA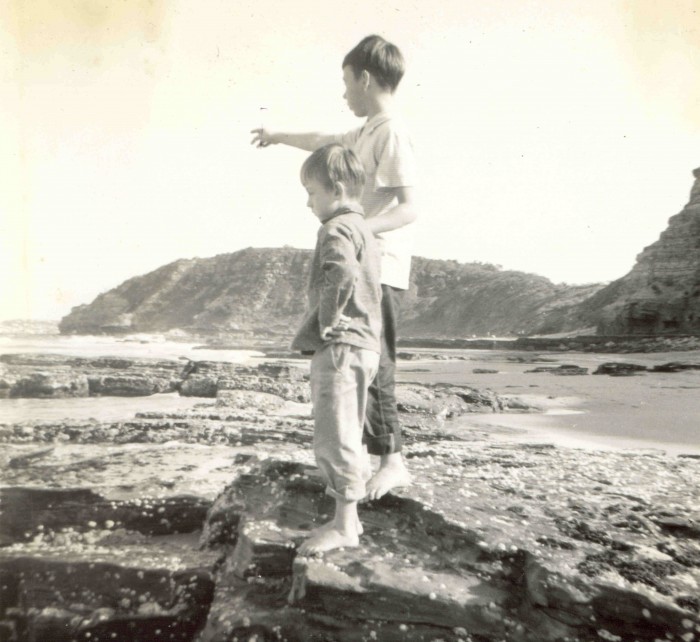 Shane & (younger brother) Dale Egan, Little Narrabeen surf check, circa 1964. Photo courtesy Shane Egan.
There was something of a transient element even among local surfers who had to walk, ride, drive or skate to the surf. The ever shifting sand-banks were catalytic in forming bonds and breaking them. A group of local surfers would form around a good sand-bank which may last a season or more. Living at Narrabeen allowed you ready access to surf with mates anywhere between Long Reef and Mona Vale – the pubs being a common ground. We lived within a walking distance encompassing North, South & Little Narrabeen, Warriewood and Cooks Terrace. The closest mate to the break had the honour of being the temporary "store-a-board".
When boards were big & heavy a couple of times I opted to paddle to North Narrabeen via the small creek that runs behind Narrabeen High School & Warriewood Mall and feeds into the lake and eventually spills out at the legendary sand-bank off the point. As surfing spread its opiate tentacles inland and its trendy image grew, the "Westies" began to come in droves. Mona Vale Road and the Manly Ferry were their main arteries to the "name" beaches. Back-beaches like Little Narra and other surf breaks off the main drag remained hidden for a short time but eventually succumbed to the rising surf population.
I was probably the last to hesitantly abandon Little Narrabeen in the late 60's after the sand left and a road was cut down the steep hill and out the point to run the sewerage outlet pipe.
FRINGE DWELLERS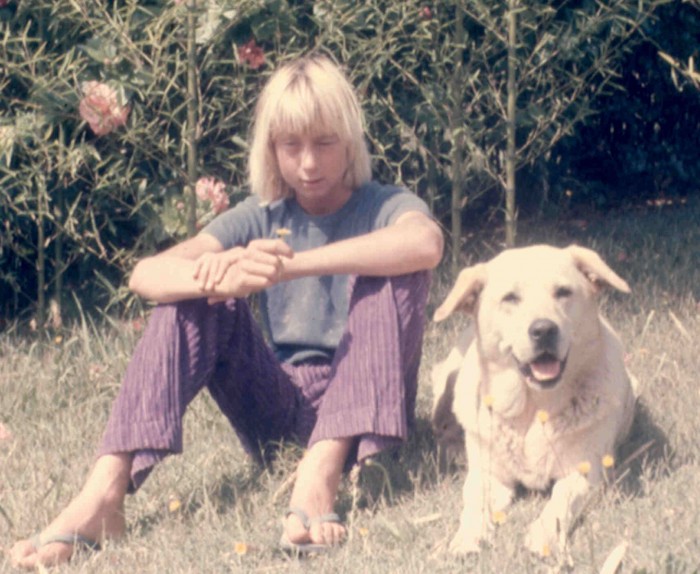 Dale Egan & Simba the surfing dog, Narrabeen flower power. Photo courtesy Shane Egan.
In the late 60's and early 70's surfers were fringe dwellers of the Hippie movement – but with an agenda.
The first time our dog Simba tagged along on our walk to the surf at Little Narrabeen, she followed us right out to the jump-off shelf on the point. Being a Labrador she didn't stop there and dove in after Dale & I. We hadn't realised till we looked back and saw Simba negotiating the suck-up rock in a solid 10 foot swell. The next trick was to get her to body surf back into the beach.
Thanks to Shane Egan for text and photos.