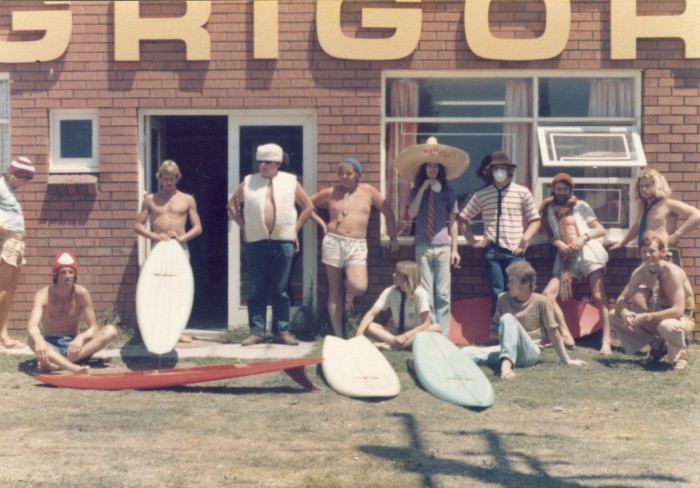 McGrigor team pose for photo shoot early 1970s, photo courtesy Bryan Hughes
I asked Bryan to supply some info on McGrigors…
McGrigor Surfboards started around 1970 by Brian McGrigor and was more than likely backed by Ken Bevan (Geronimo) founder of the "Dee Why Surf Shop". McGrigor soon left to continue his travel's and Ken took over ownership in the very early day's.
Ken's ability to create outlets for the boards with his "Dee Why" and later "Surf 'n Gear" shop's saw a factory that was always in demand of workers and the list of shapers alone is long and impressive. There is many a tradesman in the industry that owes at least some part of their learning to a stint at McGrigors.
Harbord Road in Brookvale has always been a surf factory road and McGrigors was no exception. Originally at 238 and ending at 186 the boards came out the door under Geronimo's ownership till he sold to master laminator John Fleck who continued under the same banner until the factory closed in the late '70's.
STEVE CORE ADDS…
I was an old employee of Ken 'Geronimo' Beaven and knew him very well. I worked in many of his shops over the three year period of '65, '66 and '67. During that time I worked in our Rockdale, Bondi [two locations; Bondi Road and then Curlewis Street – where the IGA is now] I also worked in the Dee Why Long Reef store.
In the colour McGrigor photo – that's Geronimo, hands on hips, in the white fur vest and Russian-style hat.
And Darryl Sykes [an old long-lost friend] was a Cronulla Point-based knee-boarder and originally a Kiwi – he ran the huge Cronulla Dee Why Surf Shop on Gerrale Street in the late sixties for Geronimo. Hence the obvious McGrigors connection there. He returned the New Zealnd in the early seventies and I am not sure where or what he does these days.  [THANKS STEVE]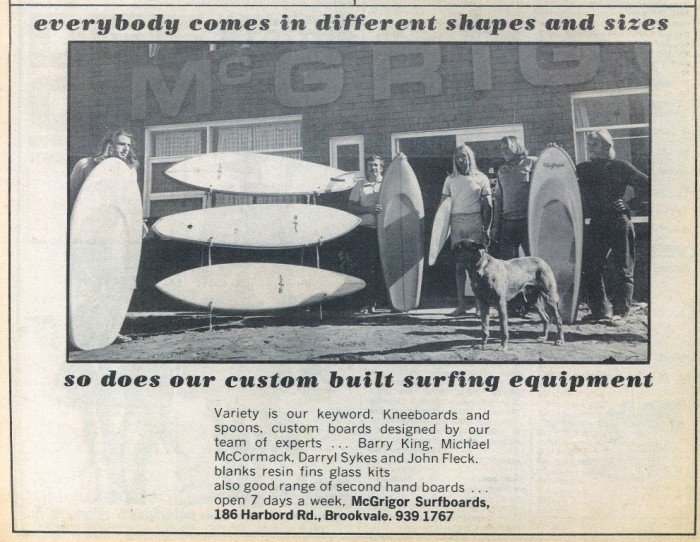 McGrigor advert in Tracks Magazine, August 1972: L to R…Daryl Sykes, John Fleck, Barry King, Ian Grosvenor and Michael McCormack with Flecky's dog 'George' in front… info Bryan Hughes