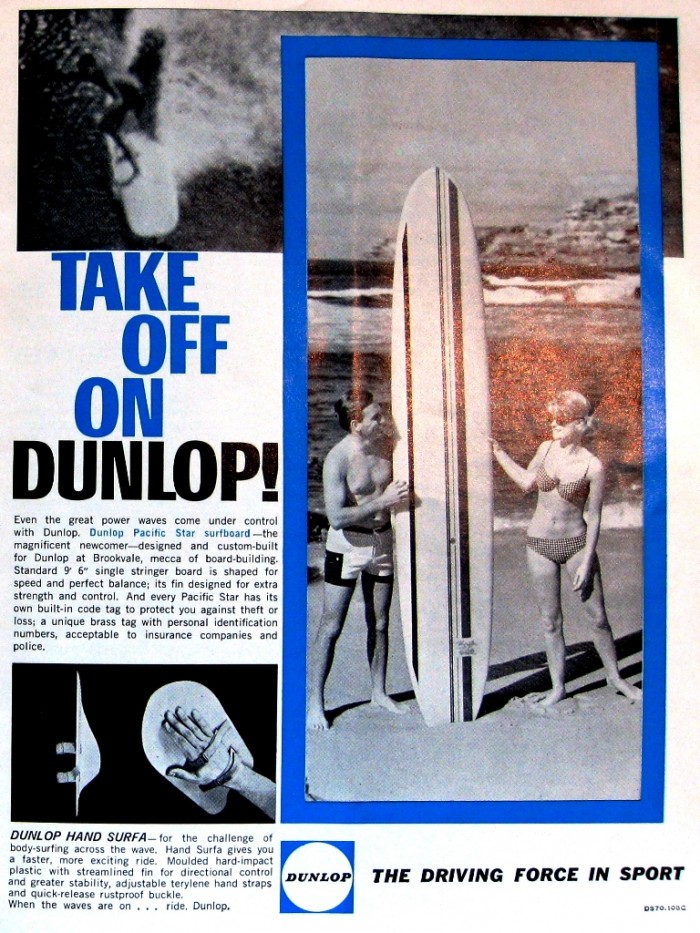 image sourced from The Surfing World Vol 5 No 4 December 1964 page 14
Just had a great conversation with Bruen Finey, a fibreglass sculptor and manufacturer in Brookvale in the late 1950s and 60s who made surfboards for Dunlop along with his own business 'Crest Surfboards' out of a factory in Roger Street. Dunlop distributed his boards far and wide across the state – wherever they had a sports store.
Bruen left the army after 1945 and studied sculpture, funded by an ex-war service grant, and took up working with fibreglass and foam in the 1950s, building chemical vats and shop displays, based in Brookvale where land was cheap and other fibreglass companies were located. He recalled sourcing polyurethane chemicals from a sugar refining company in Waterloo, but couldn't remember the name.
His contract with Dunlop to supply large numbers of boards every week meant hiring itinerant shapers, finishers and polishers. Bruen did all the glassing himself. 'When the surf was up, no one wanted to work'. Profit was small and output of boards was slow so he decided to develop standard molds and 'pop-out' a generic shape. Not surprisingly, this proved a flop as surfers were a 'fussy breed' and wanted unique features and characteristics – so decided to sell business to Dunlop, who moved the board making operation to St Mary's, far from the surf.
Working in Brookvale, on the northern beaches, Bruen remembers Scott Dillon, who sometimes sold him resin, Gordon Woods, a hard working scruffy bloke, Greg McDonagh, who built beautiful boards with clear resin over faultless foam and, or course, Barry Bennett. Bruen rode a large board he made himself although didn't hang around with surfers who were a 'close clique' and didn't take kindly to outsiders. He mostly surfed around Manly and could take off 40-50 feet outside everyone else and run through the crowd like a tanker. No wonder they cursed him. Big thanks to Bruen for the info and support.