Rose Seidler's maccaroons

Print recipe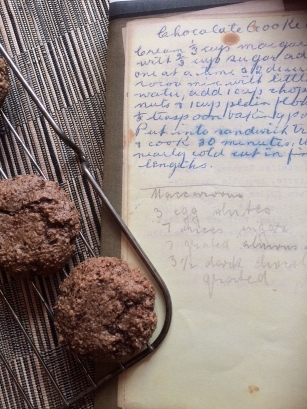 Ingredients
3 egg whites
200g caster sugar
200g almond meal
100g dark chocolate, grated
flaked almonds, optional
Note
As with many handwritten 'recipes' belonging to accomplished cooks, there are no cooking instructions for these maccaroons in Rose's notes, just the ingredients.
Directions
Preheat oven to 180°C or 160°C fan forced. Line a baking tray
with baking paper and dust it with cornflour.


Using electric beaters, whisk the egg whites in a large, squeaky-clean bowl until soft peaks form.
While continuing to beat, add the caster sugar a few spoonfuls at a 
time until the mixture becomes thick and glossy and stiff peaks 
 form.


In a separate bowl, mix together the almond meal and grated chocolate, then fold this mixture into the egg mixture, until fully incorporated and evenly distributed.


Using damp hands (or wearing food-safe gloves) form the mixture into walnut-sized balls and arrange on the baking tray, leaving space between them as they will expand. Press each ball lightly in the centre, placing an almond flake, if using, in the depression left by your finger.


Bake for 15 minutes, or until the biscuit has dried and firmed on the outside (it will still be soft to the touch but will crisp up once cooled). Remove from the oven and allow to cool for a few minutes on the tray before transferring to a cooling rack. 
Store in an airtight container in a cool dry place for up to two weeks.
COOKS TIP: Place the grater and the chocolate in the freezer for more efficient grating, or, if using a food processor, chill the chocolate and the grating disc.