Anzac biscuits – before ANZAC

Print recipe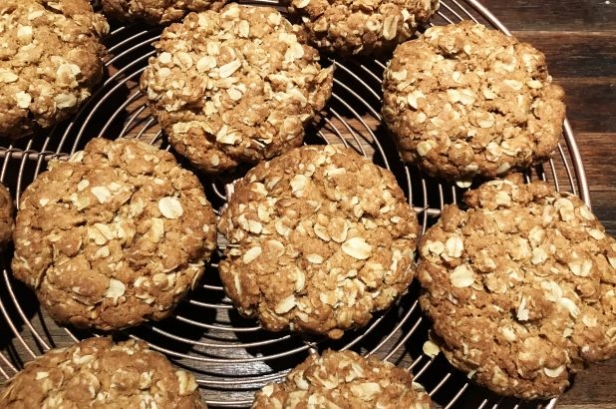 Ingredients
2 cups rolled oats
1 cup flour
1 cup brown sugar
1 pinch salt
1 teaspoon bicarbonate of soda
150ml butter, melted
Note
Anzac biscuits had humble beginnings: before they became known as Anzac biscuits (the earliest dated recipe is 1920) they were simply known as 'Rolled oat biscuits'.
This recipe comes from the Thorburn household at Meroogal, and uses brown sugar instead of golden syrup.
Directions
Preheat oven to 180°C (or 160°C fan-forced). Line a baking tray with baking paper.

Mix the rolled oats, flour, brown sugar and salt together in a bowl. Dissolve the soda in 40 ml (2 tablespoons) of boiling water and add to the mixture with the melted butter. Stir to combine and allow mixture to stand for 10 minutes.

Using wet hands, roll portions of the mixture into balls of desired size and flatten with the back of a spoon as you place them on the baking tray.

Bake for 10 minutes or until lightly browned.