Red flannel hash

Print recipe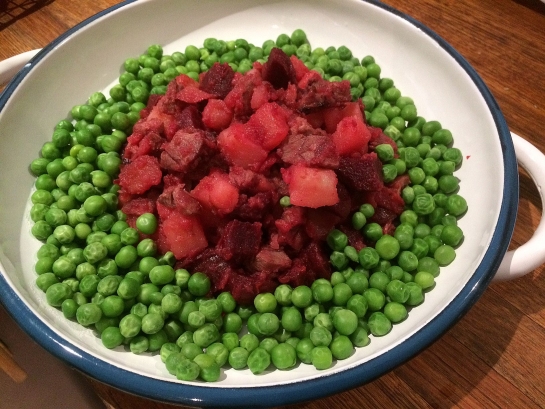 Ingredients
2 cups cold boiled potatoes, diced into 1 cm cubes
2 tablespoons butter or olive oil
1 cup cooked whole beetroot, boiled or tinned, diced into 1 cm cubes
1 cup cold cooked meat, diced
2 cups peas, to serve
mint sauce, to serve
milk, optional
Note
This convenient 'leftovers' recipe is from Wartime Cookery by Sarah Dunne (Melbourne, 1945). The beetroot helps 'cammouflage' the fact that the dish contains relatively little meat, but it is surprisingly tasty.
Directions
Heat the butter or oil in a frying pan and once starting to sizzle, add potato pieces. Cook until nicely browned, stirring to prevent sticking. Add beetroot and cold meat, stirring to mix through the potatoes with two tablespoons of water to thicken and help bind the mixture. Cook until heated through, adding a few tablespoons of water as necessary, or for a creamier finish, use milk instead of the extra water.
Meanwhile, boil the peas.
To serve, pile the hash onto the centre of a plate, and surround with peas. Mint sauce or other condiments can be added at the table.