Oyster loaves

Print recipe
| | |
| --- | --- |
| Serves | 6 |
| Meal type | Lunch, Snack, Starter |
| Misc | Serve Hot |
Ingredients
6 small crusty bread rolls
125ml (1/2 cup) dry white wine
250ml (1 cup) pouring cream
1 tablespoon butter
1/4 teaspoon freshly grated nutmeg
pinch cayenne pepper, or to taste
zest and juice of 1 lemon
30–36 oysters
lemon wedges (to serve)
Note
Oyster loaves are oyster pies made with hollowed-out bread rolls instead of pastry cases. You can use bottled oysters instead of fresh, and salmon instead of oysters, if you wish. The volume of filling required will depend on the size of your rolls.
Makes 6
Directions
To prepare the loaves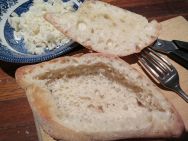 Preheat the oven to 180°C (160°C fan-forced).

Slice the top off each roll to make 1-cm-thick 'lids'. Run the tip of a small, serrated knife (or use kitchen scissors) around the inside of the crust, taking care not to pierce the sides or base of the rolls. Using your fingers or a fork, tease the bread away from the crust to create a shell, reserving the bread filling for the sauce. Repeat the process with each roll, and return the lids to the rolls. Put the hollow rolls on a baking tray and set them aside while you make the filling.
To make the filling
Grate or crumble the reserved bread. Put the white wine, cream and butter in a small saucepan over low heat. When the butter has melted, add the reserved breadcrumbs, spices and lemon zest, and season to taste. Simmer for 5 minutes or until the breadcrumbs have softened and the sauce has thickened (use the back of a spoon to break down the breadcrumbs if necessary).

The sauce may be lumpy, but the lumps should be plump and soft. You should have about 500 ml (2 cups) of sauce – add a little water or extra cream if necessary.
Meanwhile, carefully remove the oysters from their shells and clean off any grit. If using bottled oysters, strain them, reserving the liquid.
Taste the sauce and add 1–2 tablespoons of oyster liquor, if available. Add the lemon juice and adjust the seasoning if necessary.
To assemble the rolls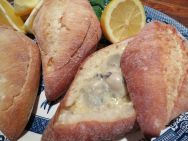 Heat the bread rolls in the oven for about 5–10 minutes until they are warm and the crusts are crisp. Carefully add the oysters to the simmering sauce, stirring very gently for a few minutes until the oysters are heated through or cooked to your liking. Remove the rolls from the oven. Lift the lids with tongs (they will be hot) and divide the oyster mixture evenly between the rolls. Replace the lids and transfer the rolls to a serving dish.
To eat
Eat the oyster loaves in true Aussie style, without the aid of cutlery, or serve them plated as an entree or as a light supper, with the lemon wedges and a salad of bitter leaves.