Pickled Lemons

Print recipe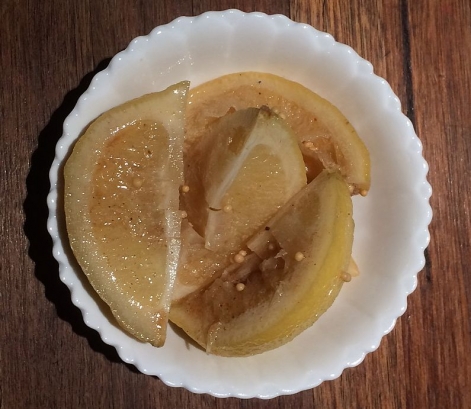 Ingredients
6 lemons
4 tablespoons pure sea salt (eg granulated cooking salt, with no free-flow additives)
1/2 teaspoon cloves, ground (or to taste)
15g mace, ground
60g mustard seeds, lightly crushed
1 nutmeg, sliced or coarsely grated
30g garlic, or shallot
1l vinegar
Note
This recipe is based on Margaret Pearson, Cookery Recipes for the People (Melbourne: Hutchinson, 1888), reproduced in The Colonial Kitchen by Charmaine O'Brien (Rowman & Littlefield, 2016). Once pickled, the lemons need to be left to mature and soften for a month or so before eating.
Typical of many period recipes, cloves were not included in the original ingredients list, so use these according to your taste. Ground spices give a cloudy effect, so use whole spices if preferred. It is unusual these days to slice nutmegs; grating coarsely should be adequate, or use whole blades of mace in its place.
Directions
If using store-bought lemons, scald them with boiling water before using them, to remove any wax.

Cut the lemons lengthways into quarters, removing the seeds. Put the lemon quarters into a sterile heatproof jar that fits them quite snugly. Sprinkle with salt, cover and let stand for three days. Add the spices and garlic or shallot. Boil the vinegar, pour it over the spiced lemons, and seal while hot. Store for a week or more before using.
COOK'S TIP: for more convenient use, divide the spiced lemons, and any juice that has been extracted, between smaller jars before pouring over the vinegar. You may need to use more vinegar for this option.