Kou-ra-piedes – Mrs Sarantides's shortbread biscuits

Print recipe
Ingredients
250g unsalted butter
60ml (1/4 cup) brandy
40g (1/4 cup) icing sugar
1 egg yolk
400g (2 1/3 cups) self-raising flour
icing sugar, extra, to dust
Note
This is Dorothea Sarantides's recipe, passed on to us by her granddaughter Kay. Made in the traditional Greek manner, the biscuits are formed by hand into a crescent shape. The brandy suggests they were made for special occasions such as Easter or Christmas.
Makes 20–25 depending on size
Directions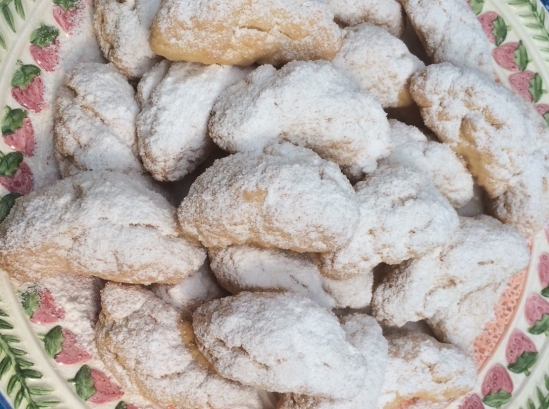 Melt the butter in a small saucepan over medium heat until the colour just begins to deepen. Remove from the heat and add the brandy. Set aside to cool.
Transfer the butter and brandy mixture into a large mixing bowl. Add the icing sugar and egg yolk and stir with a wooden spoon until blended through and smooth.
Sift the flour and add it to the butter mixture half a cup at a time, stirring with a wire whisk to prevent lumps forming. Once the mixture thickens, stir it with a wooden spoon until you have a nice soft dough. Knead the dough lightly to form a smooth malleable dough that is not sticky. Allow the dough to rest for 1 hour before shaping the biscuits.
Preheat the oven to 180°C (160°C fan-forced) and line a baking tray with baking paper.

Take a walnut-sized piece of the dough and roll it in your hands to form a ball. Resting it in the palm of one hand, work it into an elongated football shape roughly 1–1.5 cm thick. Place it onto the baking tray and turn the ends inwards to make a crescent shape. Repeat with the rest of the dough. Bake for 20 minutes or until lightly coloured.
Allow to cool slightly then transfer to a wire rack. When completely cooled, dust with sifted icing sugar. Store in an airtight container for up to 2 weeks.