Hannah M's Stewed Tomatoes (sweet)

Print recipe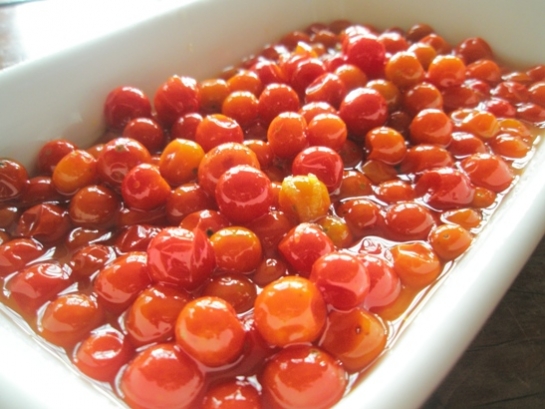 Ingredients
2 cups small cherry tomatoes
zest and juice of 1/2 lemon
1/2 cup sugar
3 cloves
vanilla yoghurt or thick custard (to serve)
Note
Choose tomatoes that have a firm skin. I've reduced the quantities from the original recipe in Mrs Maclurcan's cookery book (1905), as this is probably a recipe you'd like to experiment with to see how it fits with your taste.
While it may not suit our idea of a dessert dish, the syrup has a wonderful flavour and develops a golden hue – next time I'll use it for more conventional fruit! The aromatic cloves will suit rhubarb or plums beautifully.
Directions
Wash the tomatoes and remove any stalks. To make the syrup, place all the ingredients except the tomatoes in a saucepan along with 1 cup of water, and bring to a simmer over a low heat. Simmer for 20 minutes or until aromatic and a light, amber-coloured syrup forms. (Be careful not to boil the mixture dry – add a little extra water if necessary.)
Add the tomatoes and gently shake the pan to coat the tomatoes in the syrup. Be careful not to break the skins. Continue cooking over a low heat for about 10 minutes or until the tomatoes start to soften. Transfer the tomatoes and syrup to a shallow dish and refrigerate.
The original recipe suggests serving the tomatoes with white rice (creamed rice perhaps?), custard or blancmange. You could also try a creamy vanilla or honey yoghurt.