Dolly's ginger pudding

Print recipe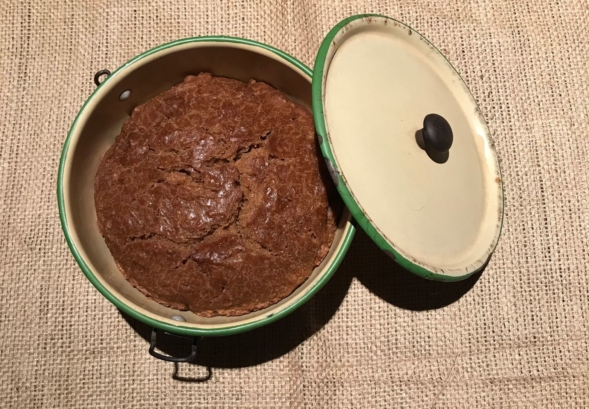 Ingredients
280g flour
110g brown sugar
1 teaspoon ground ginger (or more, to taste)
110g cold butter, chopped into small cubes
2 tablespoons treacle
200ml milk
1/2 teaspoon bicarbonate of soda
1 egg, beaten ((optional, not in the original recipe, but makes a lighter pudding))
treacle sauce, ice cream or custard, to serve
Note
Adapted from a handwritten recipe in Jenny 'Dolly' Youngein's school cookery homework book, 1912. Dolly lived at 64 Gloucestershire Street, The Rocks, now Susannah Place Museum, and attended the local Fort Street High School. The recipe Dolly recorded in 1912 uses suet, which I have substituted with butter; and rather than boil the pudding in a floured cloth, steaming it in a pudding basin may be a simpler option. Treacle sauce is the recommended accompaniment, but caramel or toffee sauce might be better suited to modern palates. Ice cream or custard are also nice accompaniments.
Directions
Lightly grease a 1.5 litre pudding basin with butter. Put a trivet into the base of a saucepan that is deep enough to accommodate the pudding basin once the lid is on. Fill the saucepan with enough water to come three-quarters up the side of the basin once it is immersed, and bring the water to the boil.

Meanwhile, combine the flour, sugar and ginger in a mixing bowl and rub the butter in with your fingertips (or use a food processor).

In another bowl or jug, mix the treacle and milk together (it helps to warm the treacle first), add bicarbonate of soda and stir to dissolve, then add it to the dry mixture. Stir to combine and form a soft, sticky dough.

Transfer the dough into the pudding basin, leaving at least 3 cm from the top rim as the pudding will swell during cooking. Seal the basin (for step-by-step instructions see 'how to seal a pudding basin') and boil steadily for one and a half hours, topping up the saucepan with boiling water as required.

Carefully remove the basin from the pan, remove the covering and invert the pudding onto a plate. Alternatively you can spoon the pudding straight from the bowl.

Serve warm, with treacle sauce.