Charlotte Russe

Print recipe
Ingredients
2-3 tablespoons gelatine powder (or according to manufacturers instructions)
1l whipping cream
1/4 cup caster sugar (or to taste)
1 teaspoon vanilla extract
1/4 cup liqueur (optional)
1 packet sponge finger biscuits (savoiardi or lady's fingers)
2 cups fresh, frozen or preserved berries or cherries
2 packets port wine or coloured fruit flavoured jelly
Wide ribbon or d'oyley, to decorate.
Directions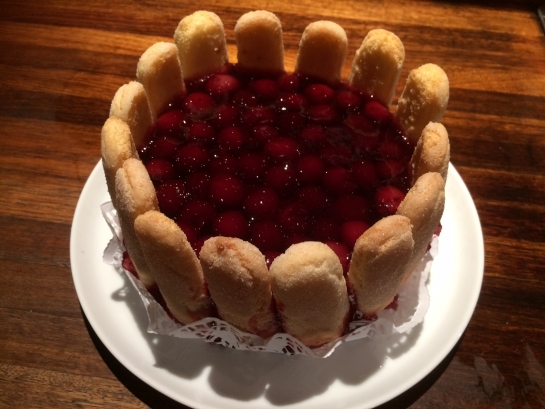 The Charlotte is made in two stages, the cream layer needing to set before adding the fruit and jelly. If preferred you can make the jelly layer without the fruit, and pile it on top once the jelly has set.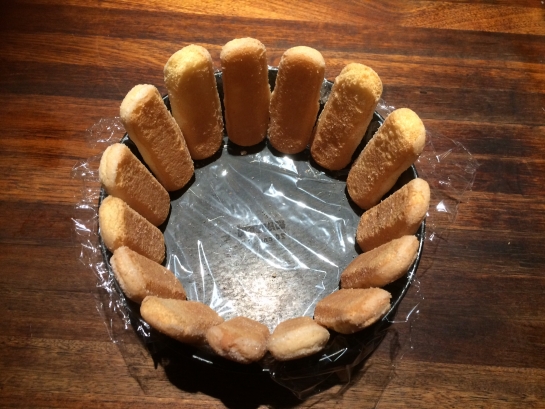 Dissolve the plain gelatine in 1/4 cup hot water and allow to cool to room temperature. Once cooled, whip together the cream, sugar and vanilla extract using electric beaters, gradually adding the cooled gelatine liquid and liqueur, if using. Being careful not to over beat whip until the mixture is thick and ribbony and soft peaks begin to form.

Line a 20 cm spring-form cake tin with plastic wrap. Arrange the sponge fingers around the inside edge of the tin vertically, standing them as close together as possible. Fill with the cream mixture, pushing it between any gaps between the fingers. Smooth the surface with the back of a spoon and refrigerate for two-three house or until set.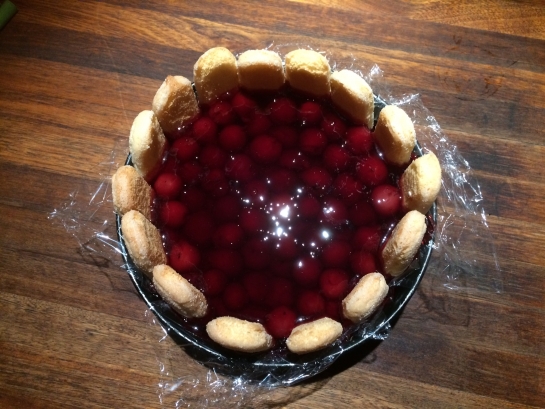 Meanwhile, wash the fruit and drain well, or if using preserved or frozen fruit, drain in a colander, saving any juices.

Make the coloured jelly according to manufacturers instructions but using three-quarters of the recommended liquid for a firmer set. Replace some of the water in the jelly with juices reserved from the fruit, if any. You should aim to have approximately 800 mls jelly. Set aside to cool but do not refrigerate to set.

Once set, arrange the fruit over the set cream in the Charlotte and carefully pour the liquid jelly mixture over the fruit. Don't worry too much if it slips down the sides. Use enough to cover the fruit by a few millimetres, or higher if there is space. Refrigerate until the jelly has set.
Alternatively you can make the jelly layer without the fruit, and pile it on top once the jelly has set.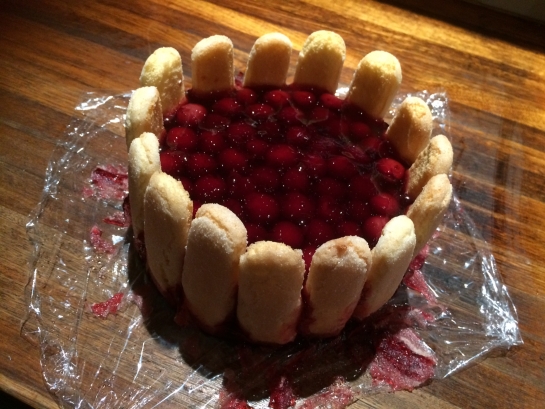 To serve Carefully unclip and loosen the cake tin. Transfer the Charlotte onto a serving plate, removing the plastic wrap from underneath. Wrap with a wide ribbon or d'oyley to conceal any messy jelly leakages, and scrape away any that remains visible with a small knife.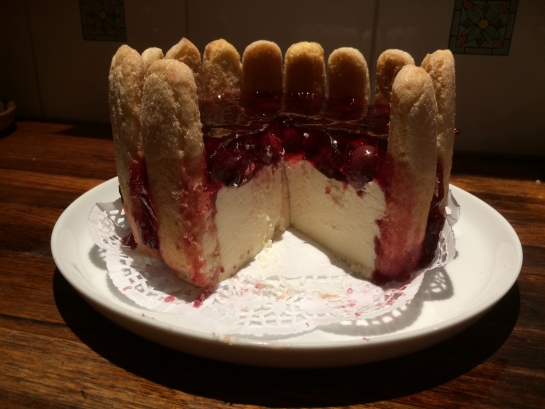 Slice in wedges as you would a cake, lifting the slice from within the ribbon.
To store, keep refrigerated.