Sago snow

Print recipe
Ingredients
1/2 cup sago or seed tapioca
3 tablespoons sugar
2 lemons (rind of one, juice of 2)
2 egg whites (keep yolks for another use)
Note
Light, white and fluffy, 'snows' were popular even in the 16th century. They seem to have fallen from grace with the advent of the domestic freezer, when ice-cream became the ubiquitous summer treat.
This recipe is inspired by a recipe from Girlie Andersen's Golden wattle cookery book, published in 1948. Traditionally, custard would be made with the leftover egg yolks to make a complete dessert.
Directions
Rinse the sago under cold running water to remove excess starch and drain through a sieve.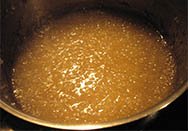 Place the sago, sugar and lemon rind in a saucepan with 2 cups cold water and bring to the boil over a medium heat. Stir with a fork to prevent the sago sticking or the sugar burning. Continue to boil gently until the sago is clear, stirring as it thickens.
Remove saucepan from heat, stir in the lemon juice and set aside to cool.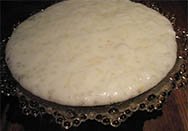 Once the sago is nearly cold but not set, beat the egg whites until stiff peaks form. Gently fold the whipped egg white through the cooled sago until it is evenly incorporated. Spoon into a decorative serving dish or individual glasses and refrigerate until set.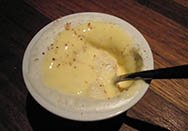 Serve quite cold, with rich vanilla custard.