Regency cheesecakes

Print recipe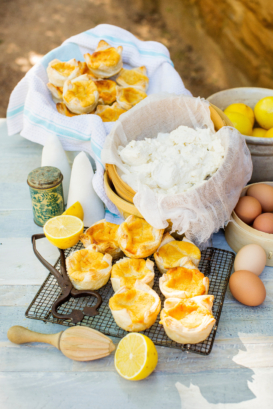 Ingredients
500g ricotta cheese
150g caster sugar
zest of 1 lemon
4 egg yolks
3 egg whites
250ml pouring cream
50ml brandy
100g currants (optional)
1/2 teaspoon grated nutmeg
3 sheets puff pastry (each cut into 4 squares)
butter, for greasing
Note
The original recipe, in A new system of domestic cookery (1816) by Maria Rundell asks for 'the curd of three quarts of milk'.
(p.166, facsimile edition, Persephone Books, London, 2009. From the 1816 edition, published by John Murray, London).
You can use store-bought ricotta, or better still, make your own!
Directions
Drain the ricotta in a fine sieve over a deep bowl for at least one hour in the fridge. Ideally you should have 350g-400g of firm ricotta.
Preheat the oven to 190°C (170°C fan-forced). Grease 12 muffin moulds with butter.
Pound 2 teaspoons of the sugar in a bowl with the lemon zest to form a soft paste, then mix it into the ricotta and set aside. Beat the remaining sugar and the egg yolks together in a large bowl until pale. Beat in the egg whites, cream brandy and ricotta. Using a wooden spoon, stir in the currants, if using, and the nutmeg.
Line the muffin moulds with the pastry squares, leaving a small collar around the top of each mould. Spoon the ricotta mixture into the pastry cases and bake for 20-25 minutes until the cheesecakes have puffed up and are lightly browned on top. Remove the cheesecakes from the moulds and cool them on a wire rack.

The cheesecakes will keep for several days in the fridge.