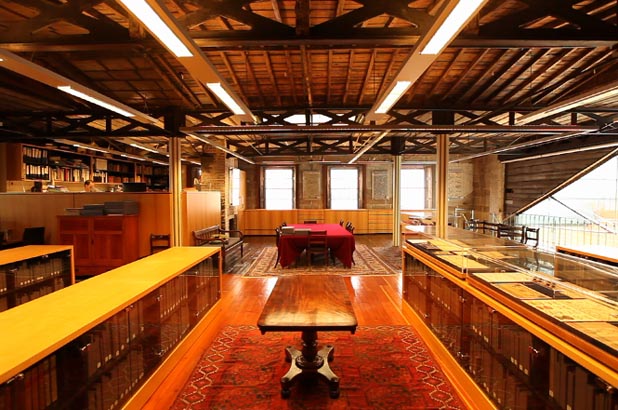 The Mint is one of Sydney's oldest surviving buildings, constructed as the southern wing of Governor Macquarie's General Hospital in 1811-1816. The payment for its builders was a three-year monopoly on the importation of rum to the colony, providing the institution with the popular name 'Rum Hospital'. The southern wing housed the assistant surgeons such as William Redfern, and was then a military hospital, a dispensary and infirmary for the poor. In 1855 the buildings reopened as the Sydney Royal Mint, after the addition of a melting house and coining factory at the rear, where currency was minted for all the Australian colonies. In 2004 the site became the head office of the Historic Houses Trust (HHT), with free visitation to public areas, the Caroline Simpson Library & Research Collection, a beautiful gift shop and café, as well as award-winning venue hire spaces.
The Caroline Simpson Library & Research Collection
The Caroline Simpson Library & Research Collection is the only one in Australian devoted to the history of houses, their interiors and gardens. Used by HHT staff and the public, it is frequented by designers, architects, heritage professionals and home owners. Library patrons have found interest in everything from an 1849 wallpaper fragment from Richmond Villa to a set of John Coburn-designed curtains, made by Sekers Fabrics in 1963; from a 1914 catalogue of over 1500 pages from Sydney department store Anthony Hordern & Sons to an 1825  guide for butlers 'on the arrangement and performance of their work'; from a 24-volume set of the garden journal, L'illustration horticole (1854-96), once owned by the Macarthur family of Camden Park to an Australian Women's Weekly book of home plans from 1946. The collection, which continues to expand and develop, provides the starting point for any study of the Australian home.