Oysters have been enjoyed since ancient times for their unique texture, flavour and perceived nutritive properties. In coastal Sydney oysters were a staple for local Aboriginal people, to which their many middens attest, and European settlers consumed them with gusto.

Oysters new and old
The recently rediscovered native Angasi oyster (Ostrea angasi, also commonly known as the mud or flat oyster) is being farmed in New South Wales and is appearing on trendy restaurant menus, but 1840s diarist Godfrey Mundy, author of Our Antipodes (1852), was somewhat disparaging about the river variety:
The great mud-oyster of the rivers is too unctuous for delicate appetites, although it is swallowed ore rotundo [with full or rounded mouth] at the street corners and stalls by those who prefer quantity to quality.
Mundy, Our Antipodes, 1852.
Enjoyed by convicts and toffs
Oysters were universally enjoyed by the well-to-do and the poor; they were a familiar food that was easy to access even for convicts, who were delighted with something fresh and tasty to supplement their rations. Oyster shells were found under floorboards at Hyde Park Barracks, smuggled inside by prisoners. Oysters were eaten fresh as Mundy asserts but, without refrigeration, would need to have been consumed very quickly after harvesting. According to some sources, the local Aboriginal people were wary of raw oysters, preferring to roast them in their shells over a fire before consuming them, minimising the risk of stomach upsets. Roasting them would also release their natural 'lock' and make them easier to open.
A versatile ingredient
Nineteenth century cookbooks abound with recipes for cooking oysters. They could be smoked, boiled, stewed, crumbed and fried, scalloped, 'ragoo'-ed, added to pies, made into sauces and soup, used as forcemeat (stuffing; no doubt this is where the iconic Australian Carpetbag Steak originated) and, as the century progressed, curried. Oysters could also be pickled by cooking them briefly in their natural 'liquor' with wine and vinegar, then bottled, ending up a bit like the tubs of New Zealand mussels we can still buy today.
To make Oyster Loaves

Take small French rasps or little rolls. Make a little hole in the top, scrape out all the crumbs, then put your oysters into a tossing pan with the liquor and crumbs that came from your rasps or loaves, and a good lump of butter, stew them together five or six minutes, then put in a spoonful of good cream, fill your rasps or loaves, lay the bit of crusts carefully on again. Set them in the oven to crisp – three are enough for a side dish.
Elizabeth Raffald, The experienced English housekeeper, 1799.
I've adapted a modern version of this classic recipe – they've become a household favourite – decidedly more-ish!
Oyster loaves

Print recipe
| | |
| --- | --- |
| Serves | 6 |
| Meal type | Lunch, Snack, Starter |
| Misc | Serve Hot |
Ingredients
6 small crusty bread rolls
125ml (1/2 cup) dry white wine
250ml (1 cup) pouring cream
1 tablespoon butter
1/4 teaspoon freshly grated nutmeg
pinch cayenne pepper, or to taste
zest and juice of 1 lemon
30–36 oysters
lemon wedges (to serve)
Note
Oyster loaves are oyster pies made with hollowed-out bread rolls instead of pastry cases. You can use bottled oysters instead of fresh, and salmon instead of oysters, if you wish. The volume of filling required will depend on the size of your rolls.
Makes 6
Directions
To prepare the loaves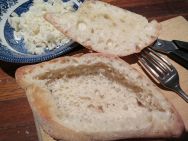 Preheat the oven to 180°C (160°C fan-forced).

Slice the top off each roll to make 1-cm-thick 'lids'. Run the tip of a small, serrated knife (or use kitchen scissors) around the inside of the crust, taking care not to pierce the sides or base of the rolls. Using your fingers or a fork, tease the bread away from the crust to create a shell, reserving the bread filling for the sauce. Repeat the process with each roll, and return the lids to the rolls. Put the hollow rolls on a baking tray and set them aside while you make the filling.
To make the filling
Grate or crumble the reserved bread. Put the white wine, cream and butter in a small saucepan over low heat. When the butter has melted, add the reserved breadcrumbs, spices and lemon zest, and season to taste. Simmer for 5 minutes or until the breadcrumbs have softened and the sauce has thickened (use the back of a spoon to break down the breadcrumbs if necessary).

The sauce may be lumpy, but the lumps should be plump and soft. You should have about 500 ml (2 cups) of sauce – add a little water or extra cream if necessary.
Meanwhile, carefully remove the oysters from their shells and clean off any grit. If using bottled oysters, strain them, reserving the liquid.
Taste the sauce and add 1–2 tablespoons of oyster liquor, if available. Add the lemon juice and adjust the seasoning if necessary.
To assemble the rolls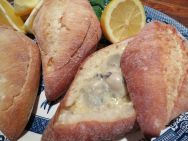 Heat the bread rolls in the oven for about 5–10 minutes until they are warm and the crusts are crisp. Carefully add the oysters to the simmering sauce, stirring very gently for a few minutes until the oysters are heated through or cooked to your liking. Remove the rolls from the oven. Lift the lids with tongs (they will be hot) and divide the oyster mixture evenly between the rolls. Replace the lids and transfer the rolls to a serving dish.
To eat
Eat the oyster loaves in true Aussie style, without the aid of cutlery, or serve them plated as an entree or as a light supper, with the lemon wedges and a salad of bitter leaves.
Oyster-ity – cheaper than eggs

Oysters were remarkably cheap, as David Mann's The Present Picture of New South Wales (1810) attests:
The current price of Articles of Food, in the year 1809
Oysters 1s. per quart
Lobsters 1s. each.
Milk 1s per quart;
Eggs 1s 6d per dozen.
Pork 1s per pound; teal 1s, goat mutton 1s.
Beef, lamb and mutton were each 1s 3d per pound;
Kangaroo 8d per lb.
At one shilling per quart (1.1 litres), oysters cost the same as the equivalent volume of milk or a pound (450 g) of pork or goat meat, or 8 eggs. They were still 1s a quart in 1827 according to another diarist, Dr Peter Cunningham, who was delighted that even at this price all the hard work of shucking had been taken care of! A quart of oysters is equivalent to about 4 small bottles of oysters from the fish-market; each bottle contains about 15 oysters, so a quart would hold about 60 oysters. At about $10 a bottle, that's around $40 – in line perhaps with a small lobster, but surprising when we realise that these delicacies of the sea cost the same as the more more mundane milk, eggs or fresh meat. Rather than these basic everyday commodities being expensive, oysters were extremely cheap.
Why so cheap?
So why were oysters sold for so little? As Scott's post 'Of oyster shells and shelly mortar' explains, the shells were more valuable than the meat inside. Just as the seventeenth century Dutch settlers used the Native Americans' discarded oyster shells in their colony, New Netherlands (now New York and surrounds), so did early colonists in New South Wales harvest shell-matter from sometimes ancient Aboriginal middens (perhaps unaware of the cultural significance that was attached to them).
William Charles Wentowrth describes deposits of oyster shells used for lime at the Coal River settlement, known to us today as Newcastle.
The lime procured at this settlement is made from oyster shells, which are found in prodigious abundance. These shells lie close to the banks of the river, in beds of amazing size and depth. How they came there has long been a matter of surprise and speculation to the colonists. Some are of opinion that they have been gradually deposited by the natives in those periodical feasts of shell fish, for the celebration of which they still assemble at stated seasons in large bodies: others have contended, and I think with more probability, that they were originally large natural beds of oysters, and that the river has on some occasion or other, either changed its course or contracted its limits, and thus deserted them.
William C. Wentworth. Statistical, Historical, and Political Description of The Colony of New South Wales. 1819.
Convict 'shell gangs' were also used to dig oyster shells out of Sydney river beds.
'The men dig for the oyster shells in the bed of the river… the labour is severe in itself, and it is frequently performed when they are up to their waists in water.'
William Hutchinson, Principal Superintendent of Convicts to Commissioner Bigge, 1821.
Let's hope they got to eat a few on the way.
Natural oyster beds were alarmingly depleted in Sydney's waterways by the 1860s. The government restricted wild harvesting and oyster farming industry began in 1868. Oyster farmers are part of the NSW Farmers Association, with current annual production of over 106 million oysters, the majority being the Sydney Rock variety.
Sources
Mrs Parker cited by Cobley (1965) p139 October 1791. Sydney Cove, 1791-1792 / John Cobley. Sydney : Angus and Robertson, 1965.
Richard Hill and George Thornton. "Notes on the Aborigines of New South Wales", 1893.
Mann, David. The Present Picture of New South Wales,  1810.
Santich, B. Bold Palates. Wakefield Press, 2012.
Raffald, Elizabeth. The experienced English housekeeper for the use and ease of ladies, housekeepers, cooks, &c. written purely from practice, London [i.e. York?], Anno 1799. Eighteenth Century Collections Online. Gale. Cengage Learning.  2012.  Gale Document Number: CW108969683
NSW Farmers Association: http://www.nswfarmers.org.au/advocacy/livestock/oysters