With our current focus on bread baking, it seemed fitting to include a recipe to make bread in our modern kitchens that uses a traditional technique – and this is the best one I've found yet. Good recipes that really work find themselves being recommended and passed on to others. I have Real Food Projects' Kate Walsh to thank for endorsing this recipe, which is based on New York Times Mark Bittman's 'No-knead bread' recipe, which he gleaned from Jim Lahey from the Sullivan Street Bakery and  published in the New York Times last year. The original article and recipe are on the NYT website (with some other, short-cut bread recipes) and there is a youtube video of the bread being made which you may find useful before embarking on making your own, especially if this is your first foray into domestic bread making.
This is my version, working with ingredients I had on hand, and easy to find in our supermarkets. It is a two-day process, but most of the time is taken up leaving the bread dough to prove, so its not hard work. There are 'speedy' and 'fast' alternatives on the NYT link, but neither worked as well as this one, nor were they as satisfying to make.
Dutch oven-baked bread

Print recipe
Ingredients
2 cups bread flour or 00 flour
1 cup wholemeal flour
1/4 teaspoon granulated yeast
1.5 teaspoons salt
1/4 cup whole or instant oats
Note
I like to get started on this recipe on a Friday evening, so we can enjoy freshly baked bread on Saturday and hand-cut slices of toast with breakfast on Sunday. 00 flour, sometimes sold as pizza flour, can be found at European delicatessens and larger supermarkets. It has a higher gluten content and makes a more robust loaf.
Directions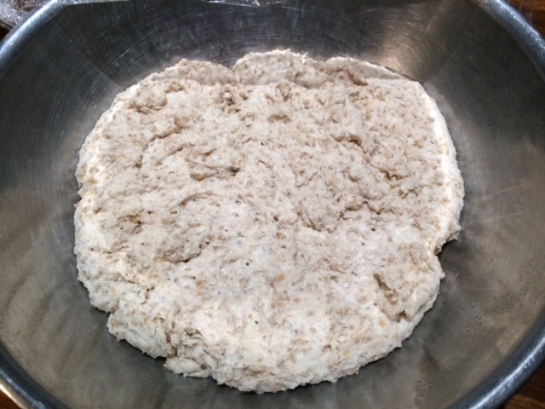 Combine flours, yeast and salt in a large bowl. Add 400 millilitres of warm water and stir until blended. The dough will be sticky and 'shaggy'. Cover the bowl in cling wrap and allow dough to prove for at least 12 hours at room temperature. The dough will swell in size and is ready when little bubbles appear on the surface.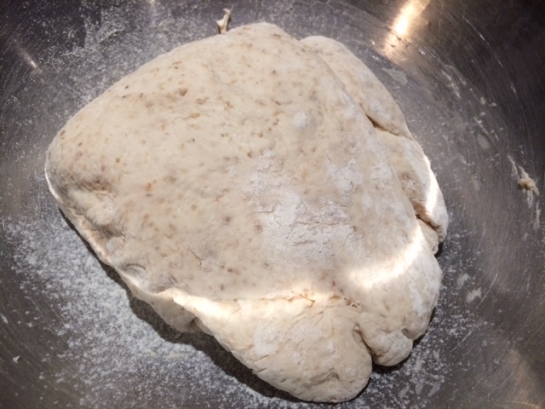 Lightly flour a large wooden board or work surface, place dough onto it and sprinkle lightly with more flour, so your hands don't stick to the dough. Fold the dough over on itself, turn it 90 degrees and fold it over again. Return it to the bowl, cover and rest for 15–20 minutes.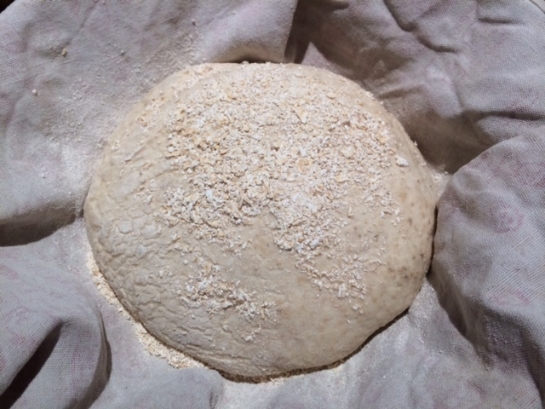 Line a large shallow bowl with a clean tea towel. Crumble the oats into a rough meal or powder in a mortar and pestle or by rubbing them in small batches between your hands. Scatter half the oats onto the tea towel to coat about 20–30 cm of the towel. With floured hands, remove the dough from the proving bowl and quickly form into a round ball. Turn the dough onto the tea towel, 'seam' or rough side down. Dust the surface with more oatmeal, cover with another cloth and let it rest a further 2 hours. The dough will expand further, and will resist springing back when poked with your finger.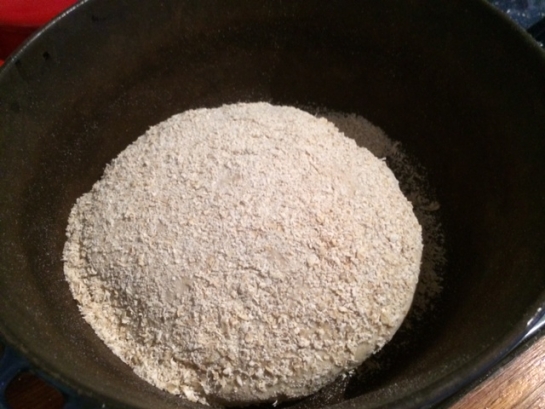 Meanwhile, an hour and a half after leaving the dough to rest in the cloth, place a deep enamelled cast-iron 'Dutch oven' or lidded casserole into the oven. Set the oven to 200°C, to preheat in time for the dough to be ready. Using heavy quality oven mitts, remove the pot from the oven and place on a heatproof surface. Uncover the dough, and slide your hand under the dough-filled tea towel, and lift carefully, allowing any excess oatmeal to fall away from the cloth (see next step).

Quickly upturn the dough into the heated pot (the excess oatmeal will fly everywhere and make a big mess if you skipped the previous step). Using oven gloves, shake the pot to centre the dough – don't worry if it doesn't look too neat, as it will shape itself as it cooks.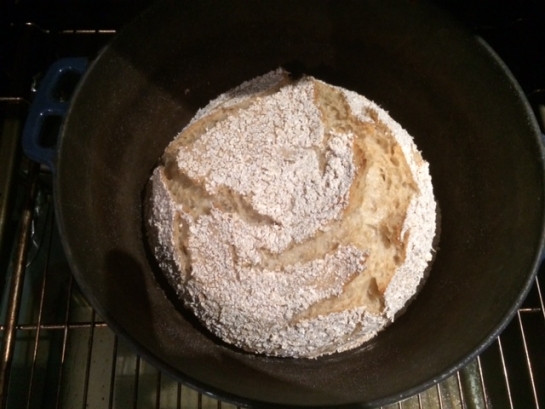 Cover with the lid and bake for 30 minutes. Using oven gloves, remove lid and continue to bake for another 20–30 minutes, until the loaf is browned on top and sounds hollow when you tap it.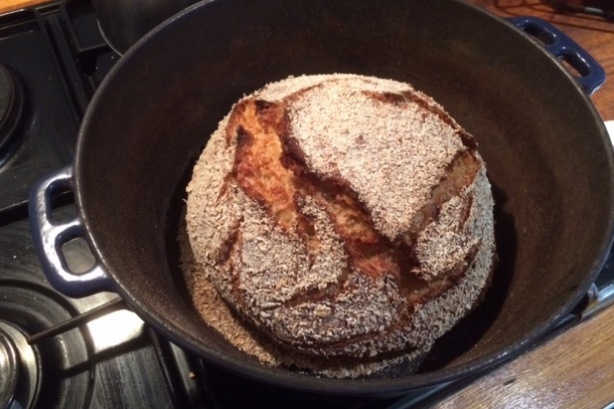 Carefully remove from the pot and cool on a rack before slicing.