February's focus is Museum of Sydney – MoS to locals – and the site it occupies, which was where the colony's first Government House was located.
The Museum of Sydney has been busy over summer with lots of visitors enjoying the Margaret Olley: Home exhibition. Richly evocative with intimate still life works and images of the artist's domestic sphere. The number of pieces that reference the artist's kitchen and dining room, and her fabulous depictions of fruit have not escaped the Cook's attention – a visual feast.
Colonial gastronomy
While Australia Day marks the landing of the First Fleet at Botany Bay it wasn't until February that the new residents of Sydney Cove were disembarked and installed on hard ground. We'll introduce you to the First Fleet's foodies and discover how early settlers adapted their tastes to the new locale while they faced more than a Masterchef challenge to be creative with their rations.
We're also celebrating summer with Colonial gastronomy: punches, cordials and refreshers workshops at Vaucluse House and Elizabeth Farm where we rediscover domestic practices that capture and preserve seasonal flavours so they can be enjoyed all year round.
And with Chinese New Year celebrations inspiring us, guest curator Michael Lech will share a rare celestial treasure from the HHT's Caroline Simpson Library & Research Collection.
In the garden
Despite the ravages of January's extreme heat, our gardens are producing apples, pears and peaches and a bumper crop of heirloom tomatoes. While I don't think a sun-kissed tomato needs anything more that a drizzle of olive oil, a sprinkling of salt and grinding of fresh black pepper, I was compelled to try out this dessert recipe from Mrs Maclurcan's Cookery Book, 1905. The thought of tomatoes and custard is extraordinary for our modern palates, but offers us a glimpse of past practices and flavour combinations.
Stewed Tomatoes (Sweet)

1 quart small cherry tomatoes, juice and rind of a lemon, ½ lb sugar, 6 cloves, ½ pint water

Mode: put the sugar, the juice of the lemon, cloves and the rind of lemon cut into very thin strips into a saucepan with the water, and allow it to boil slowly for half an hour. Pick the tomatoes from their stalk and throw into the boiling syrup for fifteen to twenty minutes. Do not allow it to boil fast after the tomatoes are in, or they will burst. Turn out into a pie-dish and serve cold with boiled rice, custard or blancmange.

(Hannah Maclurcan, Mrs Maclurcan's Cookery Book, sixth edition 1905. Rouse Hill House and Farm Collection)
Hannah M's Stewed Tomatoes (sweet)

Print recipe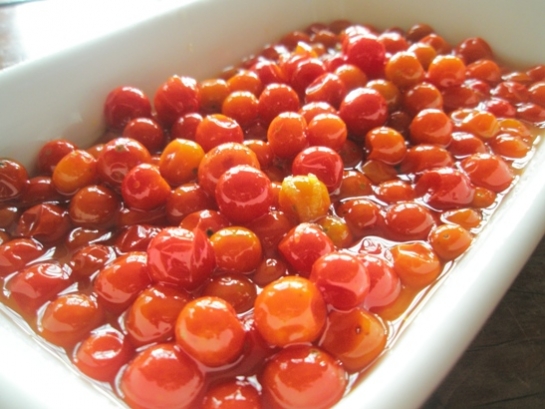 Ingredients
2 cups small cherry tomatoes
zest and juice of 1/2 lemon
1/2 cup sugar
3 cloves
vanilla yoghurt or thick custard (to serve)
Note
Choose tomatoes that have a firm skin. I've reduced the quantities from the original recipe in Mrs Maclurcan's cookery book (1905), as this is probably a recipe you'd like to experiment with to see how it fits with your taste.
While it may not suit our idea of a dessert dish, the syrup has a wonderful flavour and develops a golden hue – next time I'll use it for more conventional fruit! The aromatic cloves will suit rhubarb or plums beautifully.
Directions
Wash the tomatoes and remove any stalks. To make the syrup, place all the ingredients except the tomatoes in a saucepan along with 1 cup of water, and bring to a simmer over a low heat. Simmer for 20 minutes or until aromatic and a light, amber-coloured syrup forms. (Be careful not to boil the mixture dry – add a little extra water if necessary.)
Add the tomatoes and gently shake the pan to coat the tomatoes in the syrup. Be careful not to break the skins. Continue cooking over a low heat for about 10 minutes or until the tomatoes start to soften. Transfer the tomatoes and syrup to a shallow dish and refrigerate.
The original recipe suggests serving the tomatoes with white rice (creamed rice perhaps?), custard or blancmange. You could also try a creamy vanilla or honey yoghurt.