Anzac Day, April 25, will be very different for many of us this year, as we won't be following commemorative marches or gatherings to mark the event due to public health concerns. But we can still take pause to reflect on the ways we support front line workers – whether Anzac 'digggers' or today's health and community service providers – and continue the Anzac biscuit tradition, which is a legacy of community fundraising initiatives to help active and returned service men and women 100 years ago.
Anzac biscuits are relatively humble but extraordinarily practical, made with simple ingredients such as oats, flour, brown sugar or golden syrup, a stick of butter and coconut (which is optional, historically speaking) and they keep well. They are easy to make and fill the kitchen with inviting aromas.
There has been much debate as to the origins of the iconic Anzac biscuit, and whether they were sent in care packages to soldiers at war, or if they were made by soldiers at 'the front'. They were certainly enjoyed by Australians long before the First World War, but under different names.
Look familiar?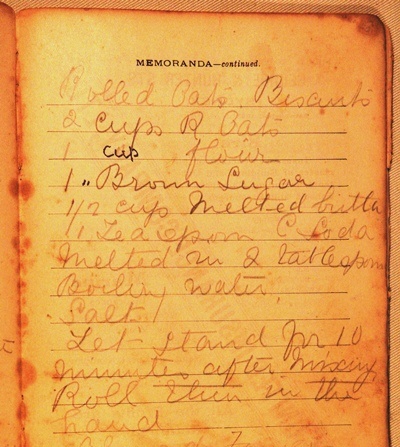 This recipe was written out by one of the women at Meroogal in the early 1900s. Clearly it is a version of the now-classic Anzac biscuit, made with all the characteristic hallmarks but using brown sugar instead of golden syrup (Read on, to find that coconut wasn't added until the 1930s). We do not know the date that the recipe was written, but it is probable that it was jotted down prior to the emergence of the 'Anzac' moniker being attached to this type of biscuit.
Rolled Oats Biscuits

2 cups R. Oats; 1 cup flour; 1 [cup] Brown Sugar; ½ cup melted butter; 1 teaspoon C Soda, Melted in 2 tablespoons boiling water (40 mls); Salt

Let stand for 10 minutes after mixing; Roll then in the hand
Digging into history
It is universally agreed that an Anzac biscuit is oat based, contains no eggs, and is made with melted butter rather than butter creamed with sugar, but when were earlier iterations defined as Anzac's?
Food historian Barbara Santich notes in her book, Bold Palates: Australia's gastronomic heritage (2012), that the first-known published recipe in Australia appeared as 'Anzac biscuits or crispies' in the Melbourne Argus in 1920, and follows the accepted method. (New Zealand lays an earlier claim for an 'Anzac Crispie' in the St Andrew's cookery book, in 1919!) The title puts paid to whether an Anzac biscuit should be crispy or chewy.
ANZAC BISCUITS OR CRISPIES

"Josephine: (E. Brunswick) has been kind enough to contribute the follow recipe for Anzac biscuits: – Two cups John Bull oats or flaked oat-meal, 1 cup flour, 1 table-spoonful golden syrup, half-cup of sugar, 1 teaspoonful carbonate of soda, 1 good pinch salt, 2 tablespoonfuls boiling water, 1 half-cup melted butter. Put oatmeal, flour, sugar, and salt together. Pour on the melted butter, mix syrup and boiling water, and stir in the soda. Mix all while frothing. Put on the greased oven slide with a teaspoon, bake brown in a moderate oven

The Argus (Melbourne, Vic. : 1848 – 1957). 15 September, 1920.
The brand reference to John Bull oats suggests that the company may have used the Anzac moniker as a patriotic way of getting people to make rolled oat biscuits.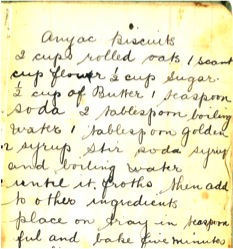 Allison Reynolds, author of Anzac biscuits: the power and spirit of an everyday national icon discovered an early Anzac biscuit recipe in a private family collection (below). Like the Meroogal recipe, it is undated, but was written in a family recipe book that was compiled between 1912 and 1920. You can read more about Allison's research project here.
Shared traditions
These early recipes do not include coconut, which is a later addition, but became very much entrenched in the 'traditional' Anzac biscuit. Oatmeal crispies are a popular 'cookie' in America, and have a long tradition there. They too contain coconut, but as they follow the conventional biscuit making method of creaming the butter, and contain eggs, cannot be considered a close relative to our Anzac.
English flapjacks, on the other hand, contain no coconut, but include golden syrup. Rather than being made into biscuits, they are baked in a slab and cut once cooked, but are certainly akin to the local interpretation.
Anzac biscuits – before ANZAC

Print recipe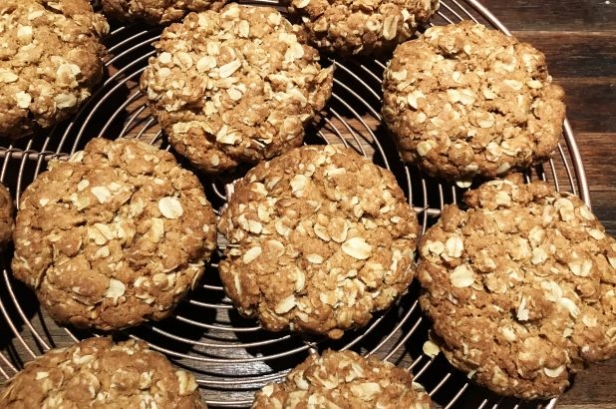 Ingredients
2 cups rolled oats
1 cup flour
1 cup brown sugar
1 pinch salt
1 teaspoon bicarbonate of soda
150ml butter, melted
Note
Anzac biscuits had humble beginnings: before they became known as Anzac biscuits (the earliest dated recipe is 1920) they were simply known as 'Rolled oat biscuits'.
This recipe comes from the Thorburn household at Meroogal, and uses brown sugar instead of golden syrup.
Directions
Preheat oven to 180°C (or 160°C fan-forced). Line a baking tray with baking paper.

Mix the rolled oats, flour, brown sugar and salt together in a bowl. Dissolve the soda in 40 ml (2 tablespoons) of boiling water and add to the mixture with the melted butter. Stir to combine and allow mixture to stand for 10 minutes.

Using wet hands, roll portions of the mixture into balls of desired size and flatten with the back of a spoon as you place them on the baking tray.

Bake for 10 minutes or until lightly browned.
Further reading and resources
Barbara Santich, Bold Palates: Australia's gastronomic heritage. Wakefield Press. South Australia. 2012 pp 205-208
'Historian chews over the Anzac biscuit story' with Allison Reynolds. ABC Radio National Bush Telegraph podcast
Sian Supski. 'Anzac Biscuits a culinary memorial'
Joanna Cobley, 'Should we safeguard 'the idea of the Anzac biscuit recipe'?' in Women's Studies Journal, volume 30 Number 1, July 2016: 62-70.
The Cook & the Curator Commemorative Crafts