When you visit number 60 at Susannah Place, the 'front room' is furnished as it might have been when first occupied in 1844. Step through to the next room and you are transported to the 1940s, when the Sarantides, an immigrant Greek family, lived there, from 1936 – 1947.
The Sarantides' kitchen as you see it today is furnished according to the oral histories from Dorothea Sarantides' grandchildren, Kay Kallas and her brother George Adaley. Kay has passed on some of her grandmother's recipes from this period.
An immigrant story
Dorothea's sons, Emmanuel Sarantides and his brother Arthur immigrated to Australia in 1914. In 1923 the rest of the family joined the two brothers in Australia – Dorothea, sister Irini, and brothers Stelios (known as Stanley) and Andrew. The family were fleeing the 'catastrophe' that occurred when Turkey expelled all the non-Turkish population of Smyrna (now known as Ismir). Like most migrants, they brought their food culture with them.
The best meals with less money
The Sarantides family's life revolved around food during their first years in Australia. Before moving to Susannah Place (60 Gloucester Street) in 1936, Emmanuel was running a restaurant at 139 George Street, The Rocks.  Emmanuel and his extended family of mother, three brothers and a sister worked in the restaurant and all lived upstairs.  Typical of the time, the restaurant sold popular and cheap English style food- three courses of roast meats and vegetables and blancmange for dessert.
This photo (below) shows a proud Emmanuel standing outside his restaurant with his staff (the building still stands today). The signage on the building declares:
'where you get the best meals with less money – walk in and judge for yourself – roast pork four times a week  – breakfast a specialty'
During the Depression years Emmanuel's restaurant struggled to make an income and Emmanuel, his brother Arthur and mother Dorothea moved to Susannah Place. Emmanuel continued to work as a cook at the popular dance and music club, the Trocedero. Another brother, Stan, ran a fish and chip shop in what is now the La Renaissance Cafe on Argyle Street.
Cooking with gas
At home the Sarantides family ate simple Greek food cooked on the fuel stove and a gas ring. Dorothea's grandchildren, who were regular visitors, described it as 'the only modern appliance in the Sarantides house' and Kay recalls cooking 'rissoles' or meatballs (recipe below) in a frying pan on the gas ring.
The gas ring depicted in the Anthony Horderns' catalogue of 1914 (pictured below) is like that used by the Sarantides family. These gas rings were a cheap and an easily fitted modern convenience in even the smallest of kitchens. In the case of the Sarantides' kitchen, a gas pipe ran down the mantelpiece and perched at the side of the fuel stove. Gas was conducted into the house through a 'coin-in-the-slot' system. While it seems rather primitive, pay-as-you-go gas meant that households would not be faced with having to pay large, lump sum bills.
Neighbourly gestures
Dorothea's English was poor but gifts of food helped build relationships with neighbours. Patricia Thompson who grew up next door to the Sarantides family remembers Dorothea passing over the fence 'lovely biscuits with what we didn't know at the time were those sesame seeds'. Pat's brother Ron recalls them cooking sting ray flaps (skate) in olive oil. While skate may be an unfamiliar food on many Australian tables today, ingredients such as sesame seeds and olive oil were unusual in  Sydney during the 1930s and 1940s. One can only imagine the smells that emanated from the Susannah Place kitchens – neighbours must always have been able to smell what each other was cooking for dinner.
Kou-ra-piedes – Mrs Sarantides's shortbread biscuits

Print recipe
Ingredients
250g unsalted butter
60ml (1/4 cup) brandy
40g (1/4 cup) icing sugar
1 egg yolk
400g (2 1/3 cups) self-raising flour
icing sugar, extra, to dust
Note
This is Dorothea Sarantides's recipe, passed on to us by her granddaughter Kay. Made in the traditional Greek manner, the biscuits are formed by hand into a crescent shape. The brandy suggests they were made for special occasions such as Easter or Christmas.
Makes 20–25 depending on size
Directions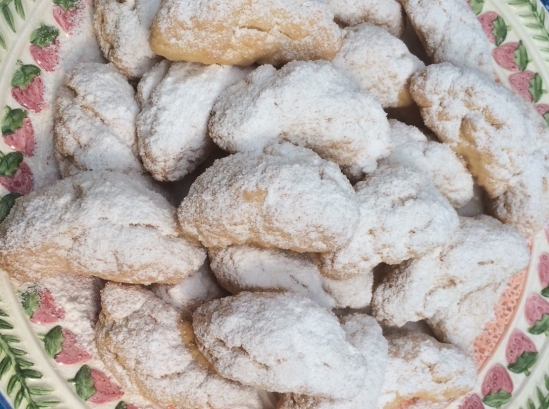 Melt the butter in a small saucepan over medium heat until the colour just begins to deepen. Remove from the heat and add the brandy. Set aside to cool.
Transfer the butter and brandy mixture into a large mixing bowl. Add the icing sugar and egg yolk and stir with a wooden spoon until blended through and smooth.
Sift the flour and add it to the butter mixture half a cup at a time, stirring with a wire whisk to prevent lumps forming. Once the mixture thickens, stir it with a wooden spoon until you have a nice soft dough. Knead the dough lightly to form a smooth malleable dough that is not sticky. Allow the dough to rest for 1 hour before shaping the biscuits.
Preheat the oven to 180°C (160°C fan-forced) and line a baking tray with baking paper.

Take a walnut-sized piece of the dough and roll it in your hands to form a ball. Resting it in the palm of one hand, work it into an elongated football shape roughly 1–1.5 cm thick. Place it onto the baking tray and turn the ends inwards to make a crescent shape. Repeat with the rest of the dough. Bake for 20 minutes or until lightly coloured.
Allow to cool slightly then transfer to a wire rack. When completely cooled, dust with sifted icing sugar. Store in an airtight container for up to 2 weeks.

Susou-ka-kia – Mrs Sarantides's meatballs

Print recipe
Ingredients
2 or 3 slices 2-day-old white bread
60ml (1/4 cup) claret or other red wine
500g beef mince
1 clove garlic, finely chopped
1 egg
olive oil
Note
This meatballs, or 'rissoles', recipe was passed down from Dorothea Sarantides to her granddaughter Kay. The wine gives the meatballs a bold and distinctive flavour. You can serve the meatballs with a tomato-based, pasta-style sauce if you wish.
Serves 4
Directions
Lay the bread in a shallow dish. Pour the wine into the dish and allow it to soak into the bread for 15 minutes or so.

Put the minced beef into a large bowl. Crumble the soaked bread over the mince, and add any remaining wine, the garlic and egg, and season to taste. Mix until fully blended.
With clean hands, roll spoonfuls of the mixture into smallish balls or patties (makes about 15–20 meatballs or 4–6 patties depending on size). Fry the meatballs in batches in a lightly oiled frying pan until nicely browned all over. Once they have browned, return all the meatballs to the pan, cover with a tight-fitting lid and allow the meatballs to cook through, adding a little water to prevent them burning or sticking to the base of the pan.
Serve hot, pouring any cooking juices over the meatballs, or European style with a tomato-based sauce poured over, or Australian style with relish or chutney on the side.