Meroogal has several productive fruit trees, including a native lilly pilly (or lilli pilli), which towers over the house on its southern side. You can see it just to the left of the house in this welcoming image.
The lilly pilly, Syzygium smithii, grows readily in eastern coastal areas of Australia, from the Illawarra – where Meroogal is situated, to far north Queensland.  It bears a small pink fruit, sometimes called a riberry, which is mildly acidic in taste. Early settlers were quick to recognise its usefulness as an anti-scorbutic, with scurvy an ever-present fear for anyone who had voyaged for any length of time by sea. Nineteenth-century colonists used them in jams and jellies, the same way redcurrants were used in Britain, and lilly pilly jelly is similarly suitable as an accompaniment to roast lamb or pork. And it's delicious on hot crumpets! Wild rosellas were another 'native' that found its way into the pantry stores as a jam or jelly. A member of the hibiscus family, they're not officially 'native' – a point of contention for Dave Gray, our head gardener – they are an introduced species, arriving on our shores some 15,000 years ago! They grow prolifically in Queensland and in Northern Territory, where they are classed as a weed. You might be familiar with them preserved whole, in syrup, to pop into sparkling wine or mineral water, where their gorgeous red finger-like fronds, or calyx, that encases the seed pod, opens up like an exotic creature in the glass. In China they are dried and infused in hot water as a fragrant tea, their tenticles slowly opening as they steep.
A lasting gift
The Meroogal lilly pilly has its own special story. It is now about 16 metres tall, but this tree was planted as a sapling, having been given to June Steel, the last owner of Meroogal, as a wedding gift on her marriage to Charles Wallace in 1944. Although humbly presented in an old jam tin, the gift carried significant reverence for June's family heritage, as the sapling came from another family property, Fairfield, the home of June's great great grandparents in Cambewarra, at the foot of the escarpment in the Illawarra. The tree still fruits and the ground below it is littered, confetti-like, with pink fruit in the summer months. Its height makes it difficult to harvest enough berries for a sizeable batch of jam but a good trick is to lay a picnic cloth on the ground below and beat any branches in reach with a straw broom, causing the fruit to fall. For something that started its life at Meroogal in a jam tin in the 1940s, there's quite a lovely synergy in that this part of the family heritage can live on in jam jars some 70 years later.
Lilly Pilly jelly

Print recipe
Ingredients
8 cups lilly pilly berries
1kg green apples
sugar
1/2 cup lemon juice
Note
Lilly pilly trees grow prolifically around Sydney – look out for them in parks, sports fields and hedging along front fences. You can use the same recipe for Rosella Jelly, using the exotic looking calyxes in place of the lilly pilly fruit.
The good thing about a jelly is that except for cleaning the fruit thoroughly, to remove any dirt, pollution or bugs, there is little preparation needed to extract the jelly base. The green apples add pectin, helping to make the mixture set, and adds to the volume produced. If you want to use the native fruit only, ensure they are under-ripe, and quite acidic, a good indicator of pectin content.
Like many jams and jellies, this recipe involves a two-day process.
Directions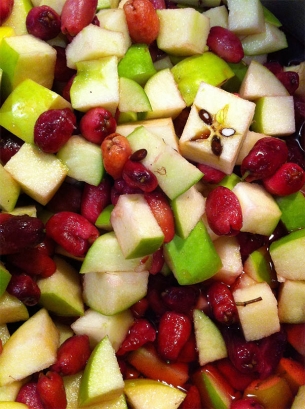 Wash the lilly pilly berries in cold water, removing any leaves, grit or spiders' webs. Drain the berries and put them into a large saucepan or stockpot (8-litre capacity minimum).
If using store-bought apples, scald them in very hot water to remove any excess wax. Cut the apples into 1cm chunks and add them – seeds, core and all – into the pan. Add enough water to just cover the fruit and bring to the boil. Reduce to a simmer, cover the pan and continue cooking for 30–40 minutes, until fruit is very soft. Allow to cool a little.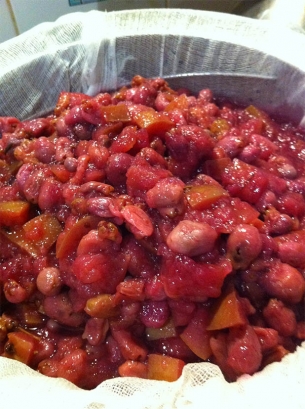 Strain the juices from the cooked fruit into a bowl using a sieve lined with three layers of muslin (or use a new chux cloth). Reserve the juice.
Bundle the drained fruit in more muslin (a bit like a plum pudding) and secure with string. Tie the bundle of fruit to the handle of a wooden spoon and hang it over a deep bowl or pan. Allow any remaining juices to drip into the pan overnight, but don't be tempted to squeeze or apply pressure – this can result in a cloudy jelly.
Next day, discard the bundle of solids. Add the first quantity of strained juice to the batch extracted overnight and transfer it into a clean saucepan or stockpot. Warm gently over medium heat and once the liquid has reached simmering point, add sugar at an equal measure to the quantity of juice. Stir gently until the sugar has dissolved then add the strained lemon juice. Don't worry if the mixture appears cloudy at this point, the sugar will help to clarify it as it cooks.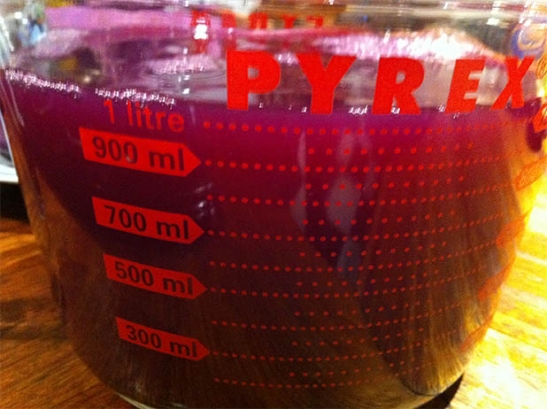 Boil the mixture rapidly, stirring as it thickens to prevent burning and to minimise the risk of the jelly bubbling over, until
setting point
has been reached, which can take up to an hour. If the jelly will not set, jamsetta or a similar pectin product can be used, following packet instructions.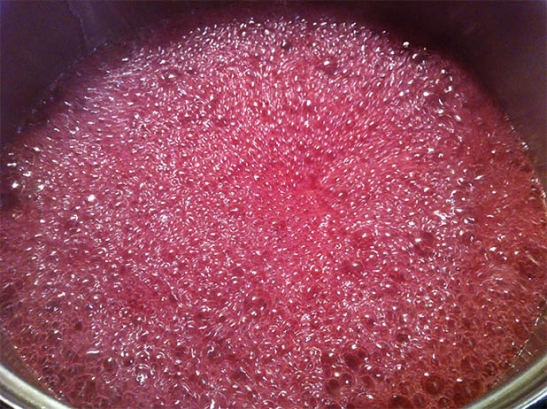 Ladle into sterilised jars and seal immediately.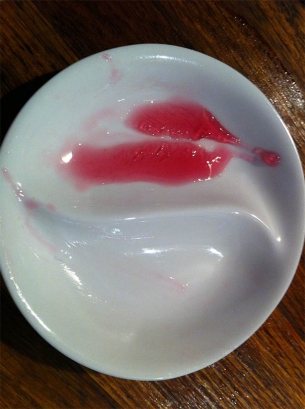 Cook's tip: The boiling process may produce a foamy scum; this is okay while cooking but make sure you skim off the scum using a large stainless steel spoon before bottling.