This week marks the 200th anniversary of the Hyde Park convict barracks, and local 'convict' students joined the Governor of New South Wales, the Honourable Margaret Beazley to celebrate.
Huzza! Huzza! Huzza!
Coinciding with the King's Birthday on June 4, 1819 – the biggest event on the Georgian calendar – governor Lachlan Macquarie, his wife Elizabeth and Lachlan junior presided over the convicts' celebratory 'feast' in the expansive mess halls on the southern side of the barracks. Sadly the mess halls have not survived but the event was recorded for posterity, in the governor's journal:
Friday 4. June !!!
At 1,O'Clock today… I went … to see the Convicts sit down to their first Dinner, according to the New System, in the new elegant Barrack in Hyde Park.

This was a most highly gratifying and interesting sight; no less than 589 Convicts having sat down to a most excellent Dinner; Plum Pudding and an allowance of Punch being allowed to them, in addition to their regular meal on this auspicious Day.
— I addressed them in a short plain speech, and — Mrs. M. and myself, and the Friends who accompanied us drank to their Health & Prosperity.
They all appeared very happy and contented, and gave is three cheers on our coming away.

Lachlan Macquarie June 4, 1819. Diary 9 July 1818 – 28 February 1821. Original held in the Mitchell Library, Sydney. ML Ref: A774 pp. 46-57. [CY301 Frames #448-459].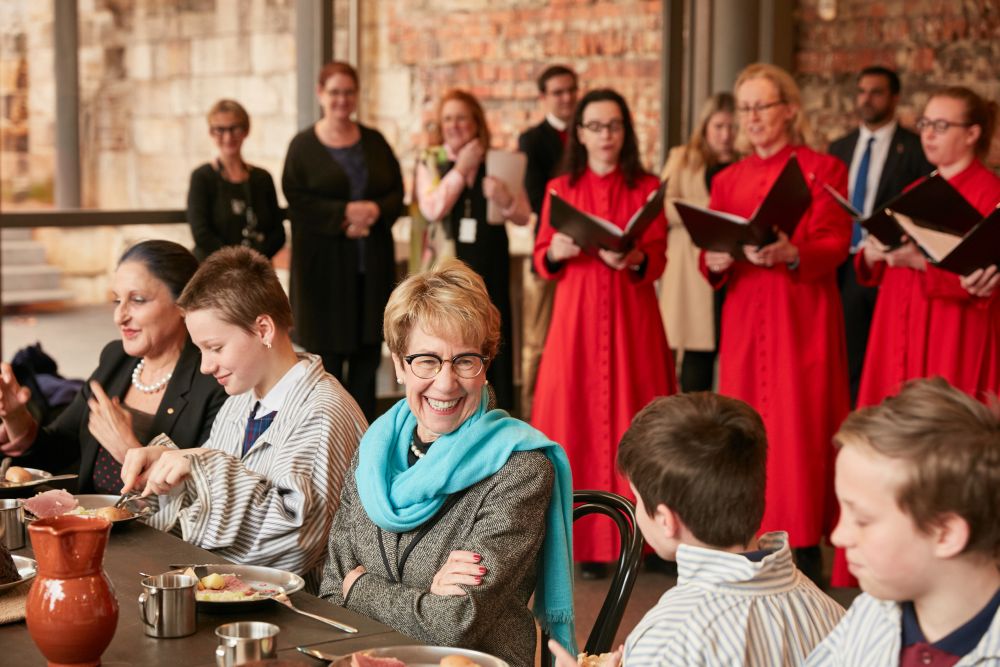 An end to the 'free' lunch
Beef was something of a privilege and plum pudding certainly a treat in 1819 Sydney. But this new regime of dining 'en masse' in the barracks mess halls brought an end to gustatory freedom for the convicts housed at the barracks. While it meant that the convicts had two square meals a day prepared for them, they were no longer at liberty to sell, trade or perhaps gamble away their ration of salted meat and bread; it was a wily form of government control.
A rummer of punch
Some children were open to the idea of boiled corned beef, cabbage and potatoes, and tucked in with gusto. One piped up proudly that she had tried corned beef before – her grandmother makes it. Others played it safe, being happier just to rip into the bread. The 'rummer' (meaning drinking vessel) of good punch was appropriately rum free for this group of convicts, who had warm mulled cider instead (recipe below).
Hot mulled 'cider'

Print recipe
Ingredients
2l clear apple juice (or clear pear and apple blend)
6 cloves
2 cinnamon quills
4 pieces lemon peel (thumb sized)
4 pieces orange peel (thumb sized)
2 cups ginger beer
Note
This is an easy recipe, as it uses ingredients easily obtainable from your 'corner shop'. You can be more authentic and use a sparkling apple cider, but it loses its sparkle in the heating process.
Directions
Put the apple juice, spices and peel in a large saucepan or stockpot over a low heat and simmer for 30 minutes. Remove from heat and add the ginger beer. Allow to cool slightly.
Remove the spices and peel with a slotted spoon or skimmer (the spices can be used again with fresh peel if a second batch of cider is desired).
Pour the liquid into a jug or carafe and serve warm.